Italian Sausage Eggplant Timbale
Italian Sausage Eggplant Timbale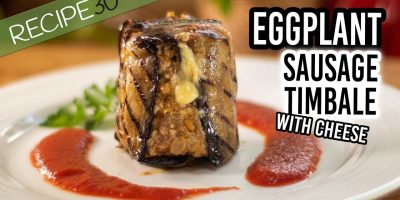 This Timbale is an absolutely fabulous hit. It makes a beautiful presentation to impress your guests and don't forget there is a mozzarella cheese center! Recipe and video courtesy of Recipe30
Ingredients
2 eggplants

2 garlic cloves

3 Italian sausages

Half teaspoon of dried thyme

2oz – 60g mozzarella cheese (four small torn pieces)

3oz – 90g breadcrumbs

⅓ cup pinenuts

2 chopped shallots

1 egg

Salt and pepper
Steps
 Step 1 Slice the eggplants, brush with olive oil, and grill on each side over a griddle or in a hot pan. Season with salt and set aside to cool.

 Step 2 In a pan over medium heat, drizzle 2 tbsp olive oil and add the chopped shallots, minced garlic and Italian herbs. Sweat until soft then leave to cool.

 Step 3 Toast the pinenuts in a dry pan, then add to shallot mixture above. Leave to cool.

 Step 4 In a mixing bowl, add the above cooled down onion mix, the sausage meat (out of their casings), breadcrumbs, egg, and pepper. Mix well.

 Step 5 Using dariole moulds or similar, oil the moulds by brushing olive oil then line using 3 slices of the cooked eggplant. Leave the excess to hang over the edges so you can fold back and wrap the contents.

 Step 6 Using a spoon, place some of the filling, enough to half fill and press firmly into each lined dariole mould. Tear apart a small piece of mozzarella cheese and place in the centre. Place another spoon of filling on top of the cheese, fill and pack firmly until you reach the top. Fold back the hanging eggplant to seal in the stuffing.

 Step 7 Place the dariole moulds on a sheet pan, and bake in oven for 30 min at 320°F – 160°C.

 Step 8 Leave to cool 15 minutes then unmould. Cover and refrigerate for later or serve immediately.

 Step 9 Perfect with your favourite marinara sauce, or see my recipe.