Poached Pears with Marsala, Cinnamon, and Vanilla
Poached Pears with Marsala, Cinnamon, and Vanilla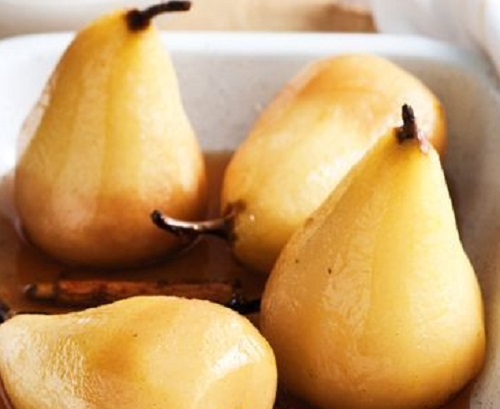 Ingredients:
Makes 6 servings.
2 cups dry Marsala wine

2 cups water

3/4 cup sugar

2 cinnamon sticks

2 vanilla beans, split lengthwise

2 long strips orange peel

Six 7-ounce Bosc pears, peeled, stems left intact

8 ounces mascarpone cheese
Directions:
Combine 2 cups dry Marsala, 2 cups water, sugar, cinnamon sticks, split vanilla beans, and orange peel strips in heavy large pot.

Bring to boil over high heat, stirring to dissolve sugar.

Add peeled Bosc pears.

Reduce heat to medium-low.

Cover pot and simmer until pears are tender, turning pears occasionally, about 40 minutes.

Using slotted spoon, transfer pears to platter.

Boil liquid in pot until reduced to 1 and 1/4 cups, about 12 minutes.

Pour syrup over poached pears.

Chill until cold, turning pears occasionally, at least 3 hours and up to 1 day.

Divide poached pears among 6 shallow bowls.

Strain syrup; discard solids.

Drizzle syrup over pears.

Top each with dollop of mascarpone cheese, if desired, and serve.