Pork Tenderloin with Tomato-Peach Compote
Pork Tenderloin with Tomato-Peach Compote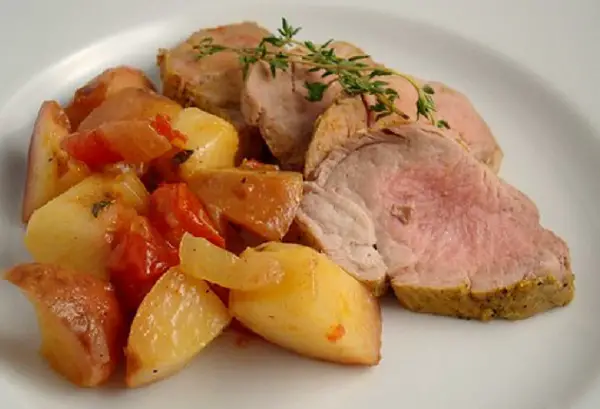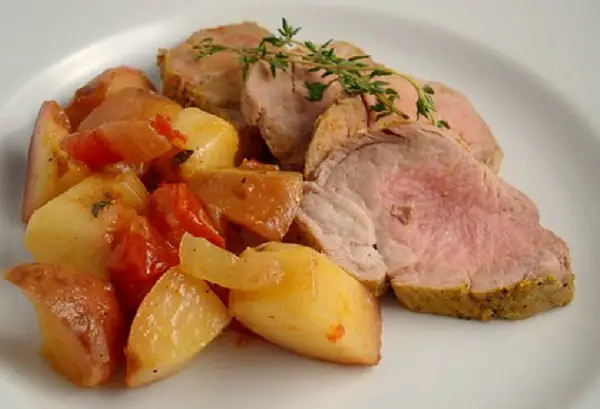 Ingredients
Makes 2-4 servings
3 garlic cloves, grated

1 1/2 teaspoons grated ginger

Salt and pepper

1 (3/4-pound) pork tenderloin

1 tablespoon vegetable oil

1/2 medium onion, chopped

1 tomato, seeded and chopped

2 small peaches, chopped

1 teaspoon chopped thyme

Pinch sugar (optional)
Directions
Preheat oven to 425 degrees with rack in middle.

Mix together the garlic, ginger, curry powder, 1/2 teaspoon salt, and 1/4 teaspoon pepper to a paste using mortar and pestle.

Rub all over pork.

Heat oil in an ovenproof 12-inch heavy skillet over medium-high heat until it shimmers.

Brown pork on one side, about 5 minutes, then turn over and transfer skillet to oven.

Roast until an instant-read thermometer inserted into thickest part of meat registers 145 to 150 degrees for juicy meat, 10 to 12 minutes.

Let pork rest, uncovered, on a cutting board while making compote.

Add onion to skillet (handle will be very hot) and saute over medium-high heat until softened, 5 to 7 minutes.

Add tomatoes and peach and saute until just softened, 3 to 4 minutes.

Stir in thyme and, if desired, sugar.

Slice pork and serve with compote.