Potato and Broccoli Soup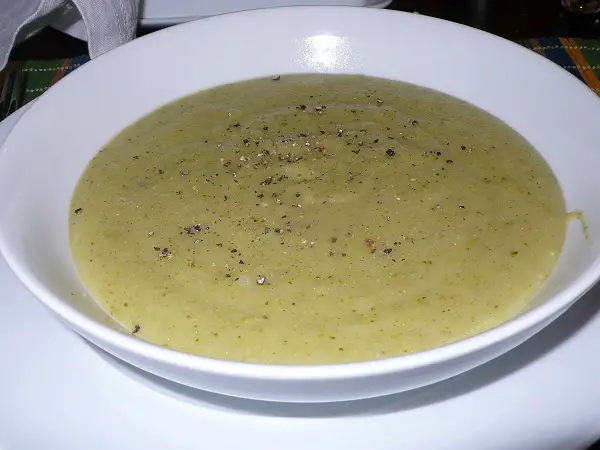 Ingredients
    2 tablespoons extra virgin olive oil

    1 large onion, chopped

    2 leeks, white and light green parts only, sliced and cleaned (optional)

    3 garlic cloves, chopped

    Salt, preferably kosher salt, to taste

    2 pounds starchy potatoes (russets or Yukon golds), peeled and cut in large dice

    A bouquet garni made with a bay leaf and 2 sprigs each parsley and thyme

    2 quarts water, chicken stock, or vegetable stock

    1 pound broccoli crowns, coarsely chopped

    Freshly ground pepper to taste
Directions
Heat the olive oil in a large, heavy soup pot over medium heat and add the onion and optional leeks. Cook, stirring, until tender, about 5 minutes.

Add 1/2 teaspoon salt and the chopped garlic and cook, stirring, for another minute, until fragrant.

Add the potatoes, bouquet garni, water, and salt to taste. Bring to a boil, reduce the heat, cover and simmer 30 minutes.

Add the broccoli, turn the heat up slightly to bring back to a boil, then reduce the heat again and simmer, uncovered, for 10 minutes, until the broccoli is thoroughly tender but still bright. Remove the bouquet garni.

Blend the soup either with a hand blender, in batches in a blender (cover the top with a towel and hold it down to avoid hot splashes), or through a food mill fitted with the fine blade. For a silky texture, strain through a medium strainer set over a bowl, using a pestle or the bottom of a ladle to push the soup through.

Return to the pot, taste and adjust salt, add a generous amount of freshly ground pepper, and heat through.