Potatoes O'Brien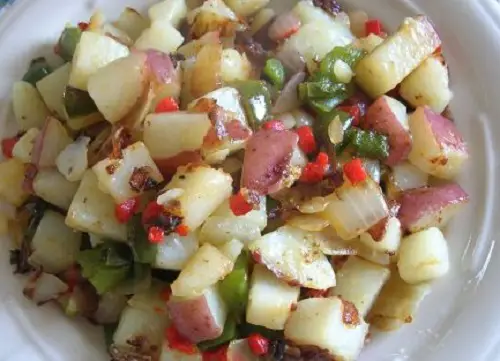 Potatoes O'Brien is a classic side dish made from fried, diced potatoes, plus red and green bell peppers and other seasonings.
Ingredients
    3 tablespoons butter, divided

    3 tablespoons extra virgin olive oil, divided

    2 cups medium diced red bell pepper

    1½ cups medium diced green bell pepper

    1 ½ cups medium diced yellow onion

    2 pounds all-purpose potatoes, peeled and cut into ½-inch dice

    1 tablespoon fresh garlic, minced

    1 teaspoon kosher salt

    ½ teaspoon freshly ground black pepper
Directions
   In a large skillet or sauté pan, heat two tablespoons of butter and two tablespoons of oil over medium high heat.

    Add both peppers and onion and cook ten minutes, stirring every few minutes.

    Add potatoes, garlic, salt and pepper and cover. Lower heat to medium and cook ten more minutes, stirring every few minutes. Test potato doneness and cook longer if not fully cooked.

    Remove lid, add remaining butter and oil and raise heat to high.

    Cook for about two minutes until the mixture is crispy.

    Add more salt and pepper to season if desired. Serve immediately.