Braised Lemon Chicken Breasts & Green
Braised Lemon  Chicken Breasts & Green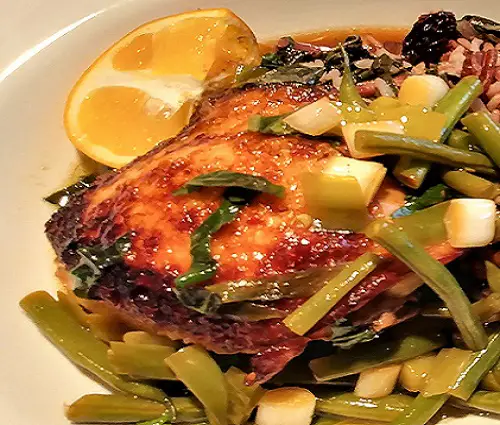 Ingredients
    4 tsp olive oil, divided
    1 white onion, chopped
    3 cloves garlic, chopped
    1/2 tsp dried oregano
    1/4 tsp red pepper flakes, or to taste
    26 oz boxed or jarred unsalted chopped tomatoes
    1 cup low-sodium chicken broth
    1/4 tsp sea salt, divided
    1/2 tsp fresh ground black pepper, divided
    1 large rosemary sprig
    1 lb fresh green beans, trimmed
    Zest of 1 lemon plus juice of 1/2 lemon, divided
    1/3 cup white whole-wheat flour (TRY: King Arthur Unbleached White Whole Wheat Flour)
    4 6-oz boneless, skinless chicken breasts
    8 Kalamata olives, pitted and chopped
Directions
    In a Dutch oven or large pot on medium-high, heat 2 tsp oil.
Add onion and cook, stirring occasionally, until translucent and lightly browned, about 6 minutes.
 Add garlic, oregano and pepper flakes; cook for 1 minute, stirring constantly.
Add tomatoes, broth, 1/8 tsp salt and 1/4 tsp black pepper; cover and bring to a simmer.
Add rosemary, beans and half of lemon zest; cover and simmer on medium-low to medium heat until beans are crisp-tender, 20 to 25 minutes, stirring 2 to 3 times.
    Meanwhile, in a wide, shallow bowl, combine flour and remaining 1/8 tsp salt and 1/4 tsp black pepper.
In a large skillet on medium-high, heat remaining 2 tsp oil. Dip chicken into flour, coating both sides. Shake off excess and add to skillet.
Cook until bottoms are deep golden brown, 4 to 5 minutes, then turn and cook until opposite sides are browned, 3 to 4 minutes more.
Transfer chicken to pot with green beans. Cover and simmer for about 10 minutes, until chicken is no longer pink in thickest part and green beans are tender, turning chicken halfway.
    Remove from heat, then remove and discard rosemary. Add remaining half of lemon zest, lemon juice and olives and stir gently.