Prosciutto and Cream Sauce
Prosciutto and Cream Sauce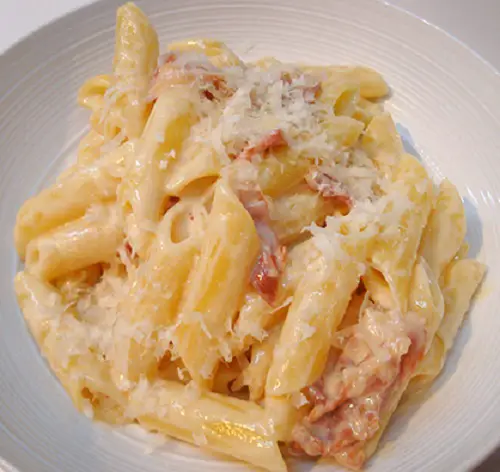 Ingredients
For 4 servings
1/4 pound sliced prosciutto

3 Tbsp butter

1/2 cup heavy whipping cream

1 pound pasta

1/4 cup freshly grated parmigiana-reggiano cheese, plus additional cheese at the table

Recommended pasta: The sauce works equally well with homemade fettuccine, or with green tortellini, and with short tubular macaroni such as penne or rigatoni.
Directions
1. Shred the prosciutto or ham into narrow strips. Put it into a saucepan with the butter, turn on the heat to medium, and cook it for about 2 minutes, turning it from time to time until it is browned all over.
2. Add the heavy cream and cook, stirring frequently, until you have thickened and reduced it by at least one-third.
3. Toss the sauce with cooked drained pasta, add the 1/4 cup grated Parmesan, toss again, and serve at once with additional grated cheese on the side.