Pumpkin Gnocchi Recipe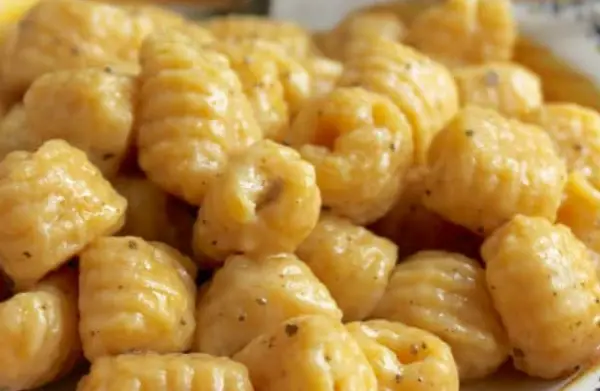 There's nothing more delicious than home-made pasta, especially our super healthy recipe for pumpkin gnocchi. Baking the pumpkin instead of boiling it ensures you don't have any excess water and the gnocchi is plump and firm.
Note: substitute for Parmigiano Reggiano if you can't find Grana Padano.

Pumpkin Gnocchi Recipe Instructions
Prep Time:
Cook Time:
Total Time:
Yield: 4 servings
Ingredients
1 ½ cups pumpkin, cubed

1 tbsp. Extra virgin olive oil

1 egg yolk

¼ tsp. nutmeg

1/3 cup Grana Padano cheese,  very finely grated

1 ½ cups all-purpose flour, plus 1/3 cup for kneading

2 tsp. Sea salt

5 tbsp. Butter

¼ cup fresh sage leaves

salt and pepper
Directions
Preheat the oven to 350.

In a bowl, toss the cubed pumpkin with olive oil, salt and pepper.

Arrange in a baking sheet, and bake until they're tender and golden about 15 to 20 minutes.

Remove from the oven, let cool down to warm, and puree using a food processor.

In a bowl, mix 1 cup of the pumpkin puree with the Grana Padano cheese, egg yolk and nutmeg, until incorporated. Slowly add in the flour, mixing and forming a soft dough ball.

Working on a floured surface, cut the dough into equal pieces, then roll them out into ropes of about ½ inch thick. Add more flour as needed as you go along. Cut each rope into small pieces, about ½ inch wide.  They should resemble small, plump pillows.

Optional: using a fork dipped in flour, mark the gnocchi with the tines of the fork by rolling it and gently pressing down.

Transfer to a floured baking sheet.

Boil a large pot of salted water, and start adding the gnocchi, a few at a time, stirring once in a while. Once they rise to the surface, cook for an additional 30 seconds, then remove with a slotted spoon or skimmer. Set aside on a pan or large plate while you work on your sauce.

Heat a large saucepan until hot, then add the butter. Once the butter has melted completely, add the sage and stir. Leave it for about ½ minutes, until fragrant, then add the gnocchi and toss till golden. Serve with a good amount of grated Grana Padano.