Pumpkin Shortcakes with Apple and Vanilla Ice Cream
Pumpkin Shortcakes with Apple and Vanilla Ice Cream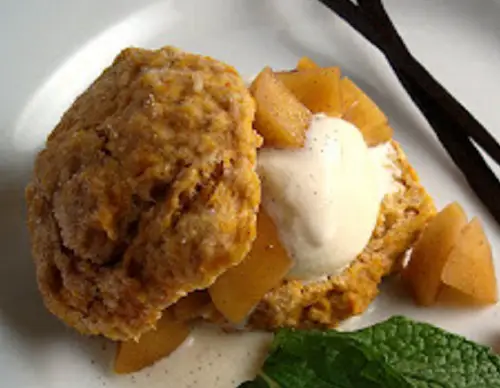 Ingredients
Pumpkin Shortcakes
1/2 cup canned pumpkin

1/2 cup nonfat milk

1/4 cup water

2 cups all-purpose flour

1/3 cup packed brown sugar

2 teaspoons baking powder

3/4 teaspoon ground cinnamon

1/2 teaspoon salt

Pinch ground nutmeg

1/4 cup cold unsalted butter, cut into small pieces

Cooking spray

1 teaspoon granulated sugar mixed with a dash of cinnamon
Apple Compote
1/2 cup water

1 inch section of vanilla bean, split in half

1 tablespoon agave nectar

1/8 teaspoon cinnamon

Pinch salt

1 apple, peeled cored, and cubed
Directions
To make the shortcakes:
Preheat oven to 375 degrees.

To prepare shortcakes, spoon pumpkin onto several layers of heavy-duty paper towels; spread to 1/2-inch thickness. Cover with additional paper towels; let stand 10 minutes. Scrape into a medium bowl using a rubber spatula. Add milk and 1/4 cup water, stirring to combine.

Lightly spoon flour into dry measuring cups; level with a knife. Combine flour, brown sugar, baking powder, cinnamon, salt, and nutmeg in a large bowl, stirring with a whisk; cut in butter with a pastry blender or 2 knives until butter pieces are pea-sized. Add pumpkin mixture; stir just until moist. Drop dough by level 1/4 cup measures 2 inches apart onto a baking sheet coated with cooking spray. Flatten dough to 1/2-inch thickness using lightly floured hands. Sprinkle evenly with 1 teaspoon granulated sugar mixed with a dash or two of cinnamon. Bake for 15 minutes or until golden. Remove from pan; cool on a wire rack.
To make the compote:
In a small saucepan, combine the water, agave nectar, cinnamon, vanilla bean and seeds, salt and bring to a boil. Boil until the mixture thickens slightly and then add the apples. Bring the mixture back to a boil, reduce to a simmer and cook until the mixture has thickened and the apples are tender, about 20 minutes. Allow to cool before serving.
To assemble the shortcakes:
Split each cake in half with a serrated knife. Spoon a scoop of ice cream over the bottom half of the shortcake, top the ice cream with a spoonful of compote and top with the top half of the shortcake.