Dandelion Salad with Poached Eggs and Bacon
Dandelion Salad with Poached Eggs and Bacon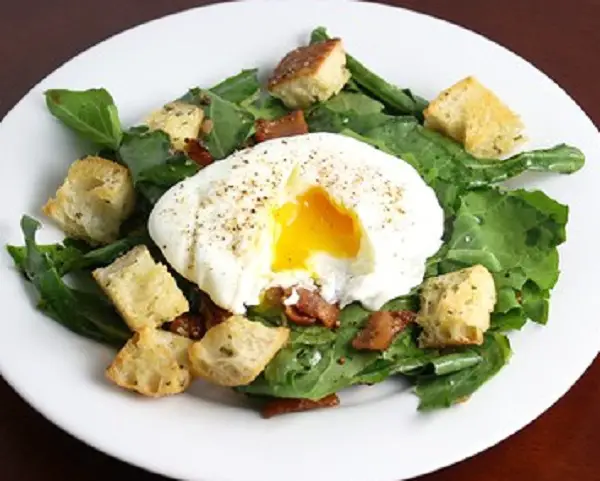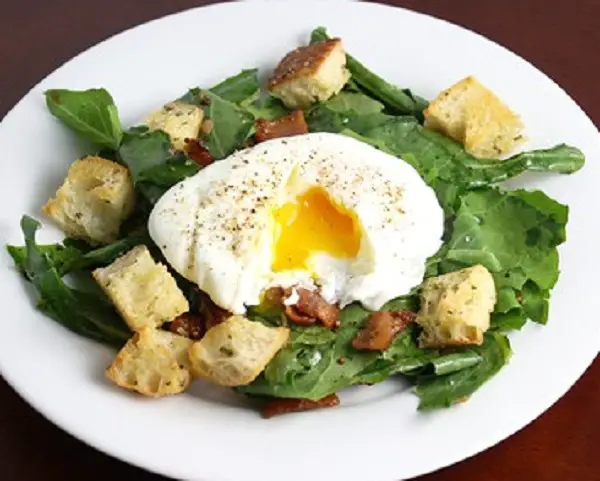 Ingredients
Makes 2 servings
For the croutons:
1 cup stale bread, cut into 1/2 inch cubes

1 tablespoon olive oil

1 teaspoon minced fresh rosemary (can also used minced thyme)

1/4 teaspoon kosher salt
For the salad:
2 slices center cut bacon, cut into 1-inch pieces

1 small shallot, minced

1 tablespoon red wine vinegar

1 1/2 teaspoons whole grain Dijon mustard

2 cups dandelion leaves, washed and patted dry
For the eggs:
2 large eggs

Water

White vinegar
Directions
Preheat the oven to 350 degrees and line a baking sheet with foil or parchment paper. In a bowl, toss the bread with the olive oil, rosemary, and salt. Spread onto the baking sheet in a single layer. Bake for about 10 minutes or until the bread is golden brown. Set aside to cool slightly.

While the croutons are baking, cook the bacon in a large skillet over medium-high heat until crisp and the fat renders, about 7-10 minutes.  Remove the bacon from the pan using a slotted spoon and drain on paper towels. Leave about a tablespoon of oil in the pan. Add the shallots, vinegar, and Dijon vinegar to the pan. Use a wooden spoon to scrape off any bits off the bottom of the pan. Stir quickly to bring the dressing together, cover to keep warm.

Crack each egg into a small bowl or ramekin. Fill a small saucepan with water and bring to a boil. Reduce to a simmer and add a splash of vinegar. Using a spoon, create a well in the water and add the egg. Quickly cover the egg with water and cook for 2-4 minutes until the whites have set and the yolk is still runny.

In a large bowl, toss the dandelion greens with the dressing, bacon, and croutons. Arrange the salad on plates and top with the poached egg. Serve immediately.