Rack of Pork Stuffed with Apples and Herbs
Rack of Pork Stuffed with Apples and Herbs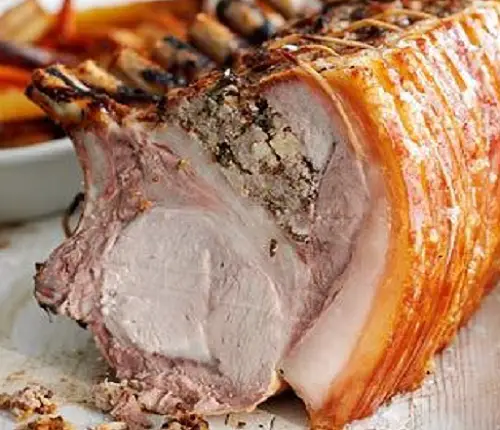 Ingredients:
for the Stuffing:
1 Tablespoon olive oil

2 small apples, peeled, cored, chopped into small dice (about 1-1/2 cups)

1 celery stalk, diced (about 1/2 cup)

1/2 medium onion, diced (about 1/2 cup)

1/2 tsp. sea salt

freshly ground pepper

1 garlic clove, minced or grated

1 cup fresh bread crumbs

1 Tablespoon chopped parsley

1 Tablespoon fresh sage

1 Tablespoons fresh rosemary

zest of half a lemon

1 bone-in pork loin, 5 ribs, about 3-1/2 to 4 pounds (a boneless pork loin is fine, if you can't find a bone-in version. Just cut the cooking time by about 15 minutes if using boneless).
for the Herb Rub:
1 Tablespoon chopped parsley

1 Tablespoon chopped sage

1 Tablespoon chopped rosemary

zest of half a lemon

1 garlic clove, minced or grated
for the Basting Liquid:
1 cup chicken broth

1 cup apple cider

1/2 cup white wine

1 Tablespoon olive oil
Instructions:
In a skillet, heat the oil and add the apple, celery and onion with the sea salt and some freshly ground black pepper.  Saute over medium-low heat for about 6-7 minutes, until vegetables and apple are soft.  Add garlic and saute for 1 minute. Remove skillet from heat and add the fresh bread crumbs, herbs and lemon zest. Transfer mixture to a bowl and let cool completely.

While stuffing is cooling, butterfly the pork loin.

Cut down along rib bones then turn knife on its side and start opening up the loin

Cut four 12″ lengths of twine and set aside. Lay out pork loin, fat side down, with bones facing to the right. Insert the blade of a very sharp knife along the rib bones and slice down.  This will release the loin from the ribs.  Do not slice all the way through.  Open the meat up a bit and take your knife and continue to slice through the meat, opening it up as it goes.  When the meat is butterflied, season it with some salt and pepper and lay the stuffing right on top.  Roll the pork loin back up and tie between each rib bone with a piece of the twine to secure the roast.  Trim loose ends of twine.  Season the outside of the pork loin with salt and pepper.
Make herb rub:
Mix all ingredients for the herb rub together and rub the pork loin all over with this mixture.

Preheat oven to 400 degrees F.

Line a baking pan with foil* and place a grate on top.  Warm the ingredients for the baste in a small saucepan on the stove.  Place the pork roast on the grate and bake for 20 minutes, uncovered.  Baste with about a third of the basting liquid. Loosely cover the roast with foil and lower temperature to 350 degrees.  Continue to cook for about 1-1/2 hours, basting with the liquid twice more.

Remove pork roast from oven and transfer to a cutting board.  Let rest for 10 minutes, covered.  Cut twine. Slice between rib bones into 5 portions and serve.
* Note:  If you'd like to make a pan sauce out of the drippings, do not line the pan with foil.  When you remove the roast to the cutting board, you can transfer the pan drippings to a saucepan and make a little sauce by adding some more white wine and butter and whisking until smooth. You can strain the sauce over the meat.