Rainbow Pasta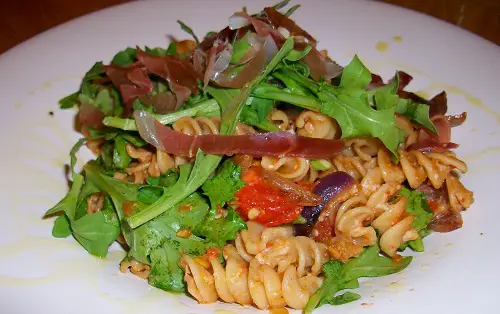 Ingredients
Extra virgin olive oil

1/2 red onion, sliced thin

2-3 plum tomatoes, quartered

Sea salt and freshly ground black pepper

2 cloves garlic, minced or grated

1 lemon wedge

2-3 cups fresh arugula (about 1 cup per person)

4 slices prosciutto, cut into long, thin ribbons (about 2 slices per person)

Freshly shaved Parmigiano Reggiano or Pecorino Romano

6 oz Rotelle Pasta or any pasta you like
Directions:
Prepare pasta according to directions.

While the pasta cooks, in a large saute pan, heat a drizzle of extra virgin olive oil over medium heat. Add sliced red onions, salt and pepper, and saute for about minutes or until caramelized.

Next add the quartered tomatoes and saute for 2-3 minutes. After the 2-3 minutes, turn the heat to low, then add the garlic and a squeeze of the lemon wedge. Saute on low for another 2-3 minutes.

Remove the pasta from the heat into a large bowl and let cool to room temperature for a few minutes. Toss the pasta with the sauteed onions, tomatoes, and garlic, fresh arugula and prosciutto. Serve the pasta with a drizzle of extra virgin olive oil and freshly shaved Parmigiano Reggiano or Pecorino Romano cheese.