Sa Panada From Sardinia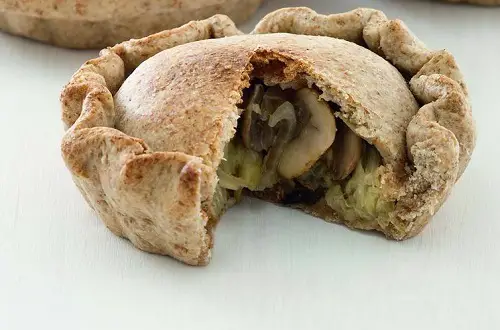 Sa Panada (simply called Panada in Italian or English) is one of the tastiest and most comforting Sardinian dishes.

Ingredients
(for 4 panadas of 10 cm – 4 inches)
For the pastry
12.3 oz. all purpose flour

12.3 oz. durum wheat flour

2.5 oz. lard

1 ¼ tsp salt

Water, lukewarm
For the filling
1.1 lbs lamb, cut into big cubes

1.1 lbs. potatoes, thinly sliced

8 sun-dried tomatoes, minced

1 clove of garlic, minced

1.7 oz. extra virgin olive oil

½ tbsp parsley, minced

Salt and pepper
Directions
Put the flours, salt and lard in a mixer.  Add 3 tbsp of lukewarm water and mix it.  Keep adding the water 1 tbsp at a time, until your mixture comes together.  Knead it on a lightly floured surface for a couple of minutes, then make it into a ball.  Cover it with cling wrap and let it rest for 30 minutes.

Now, roll the dough into a 5 mm (0.2 inches) thick sheet and cut 4 rounds big enough to fit your pie pans (remember you have to have enough dough to completely cover the sides and leave about 5 mm (0.2 inches) above the border to be able to close the pie).  Keep the remaining dough aside (cover it with cling wrap to prevent it from drying out).

Now you can fill the pies.  To do this you have 2 options.  You can either fill it in layers (sun-dried tomatoes & garlic & parsley, potatoes, lamb, oil and so on).  Or mix all the ingredients together in a bowl and then fill the pies (1-2-3-4).

Roll the rest of the dough and cut 4 rounds to close the pies.  To do so, place the rounds on the top of the pies and pinch well all around the borders (5-6).  Make sure the pies are closed well as the meat cooks with the steam and if there are holes, the pie will become dry.

Bake them in a pre heated oven at 200°C – 390°F for about 2 hours.  To check if the panada is ready, gently shake it: if the content moves, then it is cooked.

Serve warm.