Ricotta roll with Spinach in a vegetable tomato sauce
Ricotta roll with Spinach in a vegetable tomato sauce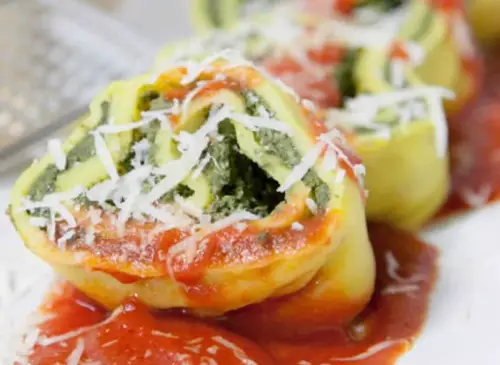 Ingredients for 6/8 people:
For the dough
Flour 400g
4 eggs.
For the filling
Spinach 1 kg
creamy ricotta cheese 800 gr
butter 50g
grated Parmesan cheese 100g
nutmeg.
For the tomato sauce with vegetables
Tomatoes 500g
1 stalk celery, diced
1 carrot, diced
1 onion, diced
1 tablespoon of  flour
1 teaspoon of  sugar
chopped parsley
chopped basil
a few tablespoons of milk
butter
olive oil
salt, pepper.
PREPARATION
In a saucepan, saute the celery, carrot and onion in butter and oil. Add the flour and do them brown, stirring constantly with a wooden spoon.
Add the finely chopped tomatoes and sugar and cook over medium heat until the sauce will be thick enough; add salt and pepper and add the chopped herbs.
Wash the spinach and boil them in a little water, then drain it, squeeze and chop finely, put them to fry in a pan with a little butter.
Put the ricotta in a bowl, then add the grated cheese, salt and a pinch of nutmeg and mix well together, pressing with the tines of a fork, finally join the spinach and mix well.
On a pastry board, mix the flour with the eggs until the mixture is homogenous and then let stand for 30 minutes covered with a clean cloth.
After this time resume the dough and, with the aid of a rolling pin, roll out the dough not too thin, place it on a cloth and cover with a layer of cream with cheese and spinach, then roll it on itself.
Wrap the roll in the cloth tying the ends, then cook in plenty of boiling salted water for 20 minutes.
At this point, drain it, let it cool and cut into slices.
In a baking dish create a layer of sauce with tomatoes and vegetables, Lie down on the slices of the roll, sprinkle with grated cheese and sprinkle with a few tablespoons of milk.
Bake in preheated oven at 220 ° C for 5 minutes to do it au gratin and serve hot.