Rigatoni with Eggplant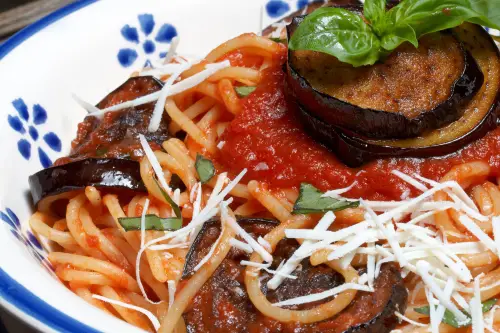 INGREDIENTS
Serves 4 people
1 pound of whole wheat rigatoni pasta

1 medium sized eggplant, cut into 1/4 inch circles or cubes

3 Tbls of light extra virgin olive oil

1 yellow onion, chopped

2 cloves of garlic, chopped

1/2 cup of red wine

1 28oz can of diced tomatoes

10 fresh basil leaves, chopped

1/4 cup of fresh flat leaf parsley, chopped

1 tsp of dried oregano

1 tsp of salt

1 tsp of fresh ground black pepper
PREPARATION
Preheat the oven to 425 degrees

Coat the eggplant with 2 Tbls of olive oil.

Place the eggplant in a single layer in a baking dish and bake for 15 to 20 minutes until tender.

In a large frying pan heat the remaining oil.

Add the onions and garlic and sauté for around 2 minutes.

Stir in the wine and cook for another minute.

Add the diced tomatoes, basil, parsley, oregano, salt and pepper.

Cover and cook for about 1 hour on low heat.

Add the eggplant to the tomato sauce and cook another 30 minutes.

In 6 quarts of boiling salted water cook the pasta until al dente. Around 10 minutes.

Drain and plate the pasta and serve with the eggplant sauce on top.

You can serve this Rigatoni with Eggplant dish with a little Parmesan on top.