Crab cake with lobster claw
Crab cake with lobster claw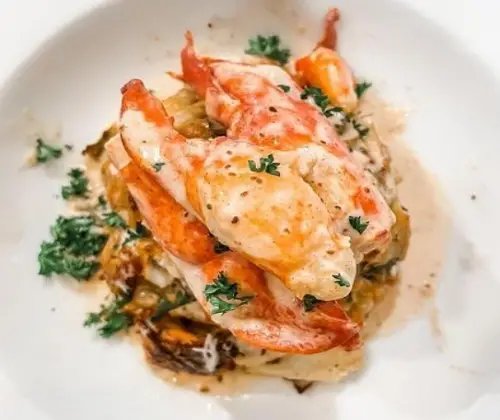 RECIPE:⠀⠀⠀⠀⠀⠀⠀⠀⠀
⠀⠀⠀⠀⠀⠀⠀⠀⠀
Preheat oven to 450.⠀⠀⠀⠀⠀⠀⠀⠀⠀
⠀⠀⠀⠀⠀⠀⠀⠀⠀
Step 1:
mix the following ingredients in a bowl:

1/3 cup Mayo,

1 teaspoon old bay seasoning,

one egg,

3 tablespoons melted butter,

tablespoon chopped parsley,

1/2 cup crushed butter crackers (I used whole foods organic rounds),

1 1/2 teaspoons mustard,

one squirt of fresh lemon juice,

pinch of salt,

2 teaspoons of Worcestershire sauce.
⠀⠀⠀⠀⠀⠀⠀⠀⠀⠀⠀⠀⠀⠀⠀⠀⠀⠀
Step 2:
using large spatula, gently fold the 1 lb of crabmeat into the mixture. ⠀⠀⠀⠀⠀⠀⠀⠀⠀
⠀⠀⠀⠀⠀⠀⠀⠀
Step 3:
create the crab cakes (more like balls, do not flatten). Mine were larger than usual and the recipe made 4 cakes.

Place on buttered cookie sheet and bake for 16 minutes or until lightly golden on top. ⠀
⠀⠀Step 4:
in a saucepan, heat

1/2 cup heavy cream,

one teaspoon of old bay seasoning until it begins to boil.

Bring to simmer, add lobster claws (used precooked claws) and cook for 5 minutes. Turn off heat and set aside.

Overcooking lobster will make it too chewy. If you have lobster claws in the shell, cook longer as that provides more flavor. ⠀⠀⠀⠀⠀⠀⠀⠀⠀⠀⠀⠀⠀⠀⠀⠀


When all is done, plate the cake with a couple of claws on top, drizzle with sauce, and garnish with chopped parsley.

You can add a lemon wedge too.