Shrimp with sautéed vegetables
Shrimp with sautéed vegetables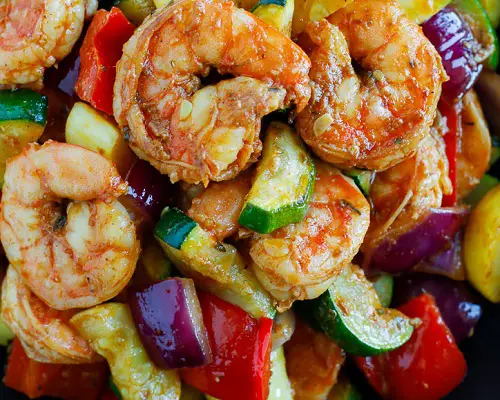 INGREDIENTS
Serves 4 people.
1 pound of jumbo shrimp

1/2 cup of extra virgin olive oil

1 tsp of dried oregano

1 tsp of dried basil

2 Tbls of lemon zest

1 Tbls of butter

3 garlic clove, chopped

1 bunch of long green onions, chopped

1 small green pepper, julienne cut (matchsticks)

1 small red pepper, julienne cut

1 small zucchini, julienne cut

1 small carrot, julienne cut

1 stalk of celery, julienne cut

8 baby portabella mushrooms

1/2 cup of dry white wine

1 15oz can of diced tomatoes

1/4 cup of fresh chopped Italian parsley
PREPARATION
Peal and devein the shrimp and place in a large sealable baggy.

Pour 1/4 cup of oil in the bag.

Mix in the oregano, basil, 1 clove of garlic and the lemon zest. Seal the bag and refrigerate overnight or a few hours.

In a large skillet sauté the remaining garlic, onions, green pepper, red pepper, carrot, mushrooms, celery and zucchini in the remaining oil and butter until slightly tender.

Add the shrimp and sauté for 3 minutes.

Add the wine and reduce in half.

Add the tomatoes and parsley and heat through.

Serve with a crusty loaf of Italian bread or over pasta.