Roasted Pacific Halibut with Summer Vegetables
Roasted Pacific Halibut with Summer Vegetables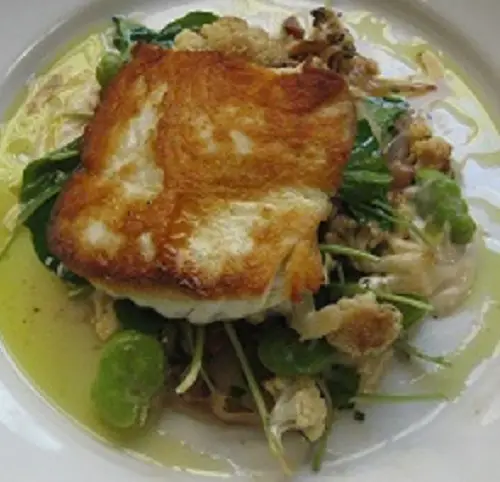 INGREDIENTS
Serves 2 people
14oz Pacific Halibut

1 cup cauliflower

1/2 cup of heavy whipping cream

1 oz of pancetta

1 oz of sliced red onion

1/4 cup of fava beans (blanched)

1 bunch of watercress

1/2 oz of salt

1/2 oz of black pepper

1 oz of vegetable oil

1/2 oz Tuscan extra virgin olive oil
PREPARATION
In a small pot boil cauliflower with cream, salt and pepper.

Cook for about ten minutes until cauliflower is soft.

Take away from heat and puree.

Heat a saute pan and add vegetable oil.

Cut halibut into two pieces and season both sides with salt and pepper.

Sear the fish on both sides for about two minutes each side until nice and brown,

Remove fish from the pan and start cooking the onion, fava beans, pancetta and watercress.

Season to taste but be aware that the pancetta is already salty.

Start by plating first the cauliflower puree, then add the vegetables, and last the halibut on top.

Finish the dish by drizzling the Tuscan oil over the fish.