Risotto with Arugula and Shrimp
Risotto with Arugula and Shrimp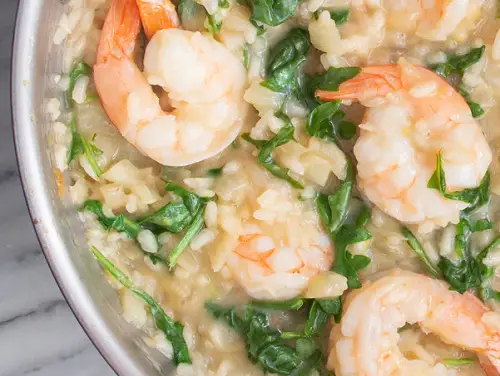 Ingredients:
Serves 6 as an appetizer 4 as main course
2 cups (packed) whole Arugula leaves plus 1/2 cup sliced (about 3 large bunches total)

1/2 cup (packed) fresh parsley leaves

4 garlic cloves, peeled

6 tablespoons extra virgin olive oil

2 teaspoons grated lemon peel

3 cups chicken broth

3 cups clam juice

2 tablespoons (1/4 stick) butter

3/4 cup chopped onion

2 cups Arborio rice or medium-grain white rice

1/2 cup dry white wine

1 and 1/2 lbs uncooked medium shrimp, peeled, deveined
Directions:
Combine 2 cups whole arugula leaves, parsley and garlic in processor.

Blend until coarsely chopped.

With machine running, add 4 tablespoons olive oil; process until finely chopped.

Mix in lemon peel.

Season to taste with salt and pepper.

Bring broth and clam juice to simmer in large saucepan.

Cover and keep warm over low heat.

Melt butter with remaining 2 tablespoons olive oil in heavy large pot over medium heat.

Add onion and saute until tender, about 5 minutes.

Add rice and stir 2 minutes.

Add wine and stir until absorbed, about 1 minute.

Stir in 1 cup warm broth and simmer until absorbed, stirring frequently.

Cook until rice is almost tender, adding broth 1/2 cup at a time, stirring often and allowing each addition to be absorbed before adding next, about 20 minutes.

Mix in arugula mixture and shrimp.

Continue cooking, adding more broth 1/4 cup at a time, until rice is creamy and tender and shrimp are cooked through, about 10 minutes longer.

Season risotto with salt and pepper.

Transfer to bowl. Sprinkle with 1/2 cup sliced arugula and serve.