Risotto with Asparagus Tips
Risotto with Asparagus Tips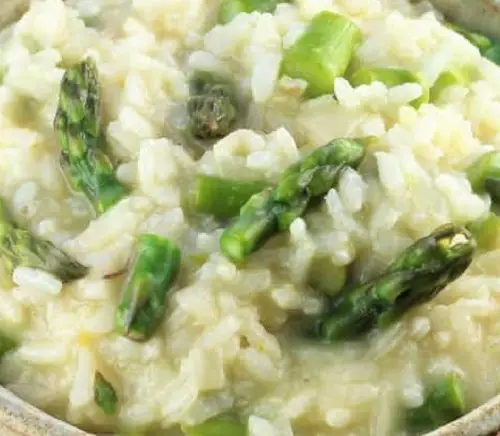 Ingredients:
Makes 6 servings
6 cups chicken broth

1 and 1/2 pounds asparagus, smallest available

6 tablespoons butter

1 medium onion, finely chopped

2 and 1/2 cups arborio rice

1/2 cup dry white wine

1/3 cup whipping cream

1/2 cup freshly grated Parmigiano cheese plus additional for serving

Salt to taste
Directions:
Prepare chicken broth.

Clean asparagus and cut off tips. Reserve stalks for another use.

Heat broth in a medium saucepan and keep warm over low heat.

Melt 4 tablespoons of the butter in a large saucepan.

When butter foams, add onion.

Saute over medium heat until pale yellow.

Add rice and mix well.

When rice is coated with butter, add wine.

Cook, stirring constantly, until wine has evaporated.

Stir in 1 or 2 ladles of broth, or enough to cover rice.

Stir over medium heat until broth has been absorbed.

Add more broth as liquid is absorbed.

After 10 minutes add asparagus tips.

Continue cooking and stirring rice, adding broth a little at a time until rice is done, about 10 minutes.

Rice should be tender but firm to the bite.

Add cream, 1/2 cup Parmigiano cheese and remaining butter; mix gently.

Season with salt.

Place in a warm dish.

Serve immediately with additional Parmigiano cheese.