Roasted Cauliflower and Farro Salad
Roasted Cauliflower and Farro Salad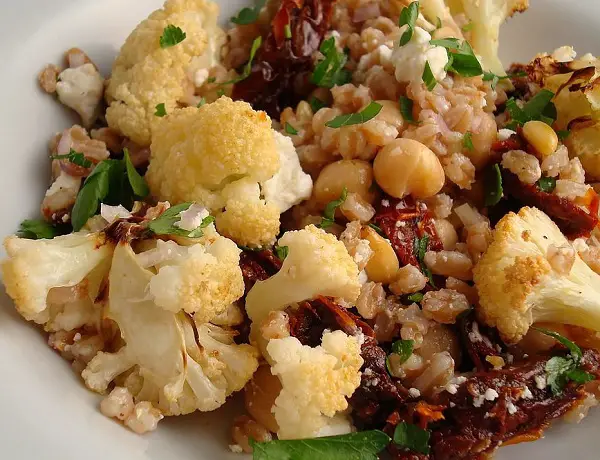 Ingredients
Makes 2 servings
1/2 bunch cauliflower, cut into florets

1-2 teaspoons olive oil

Salt and pepper to taste

1/4 cup sliced sundried tomatoes

1/2 of a 15 oz can of chickpeas, drained and rinsed

1/2 cup farro, cooked according to package instructions

1 shallot, chopped

2 tablepoons crumbled feta

2 tablespoons toasted pinenuts

1 1/2 teaspoons white wine vinegar

1 1/2 teaspoons lemon juice

1 tablespoon fresh parsley, chopped
Directions
Preheat the oven to 400 degrees.

On a baking sheet lined with foil, toss the cauliflower with the oil and season with salt and pepper until well coated. Roast for 20-30 minutes until golden.

In a large bowl, mix the roasted cauliflower with the tomatoes, chickpeas, farro, shallot, pine nuts, feta and half of the feta.

In a small bowl, mix together the vinegar and lemon juice and season lightly with salt and pepper. Add the dressing to the salad mixture and toss well to combine.

Serve warm, garnished with extra parsley.