Roasted Fennel and Peppers
Roasted Fennel and Peppers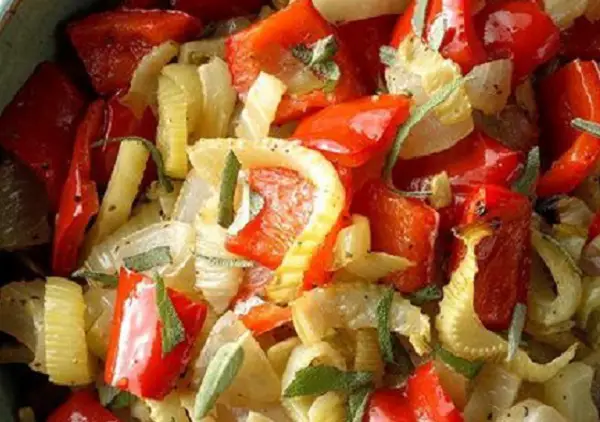 Ingredients:
Yield: 6 servings.
2 large fennel bulbs, halved and sliced into 1-inch pieces

2 medium sweet red peppers, cut into 1-inch pieces

1 medium onion, cut into 1-inch pieces

3 garlic cloves, minced

1 tablespoon olive oil

1/2 teaspoon salt

1/2 teaspoon pepper

1/2 teaspoon rubbed sage

Fresh sage leaves, thinly sliced, optional
Directions:
1) Preheat oven to 425 degrees F.
2) Place fennel, peppers, onion and garlic in a 15-in. x 10-in. x 1-in. baking pan coated with cooking spray. Drizzle with oil; sprinkle with salt, pepper and rubbed sage. Toss to coat.
3) Bake, uncovered, for 20-25 minutes or until tender, stirring twice. Garnish with fresh sage if desired.