Cabbage Rolls with Leeks, Mushrooms
Cabbage Rolls with Leeks, Mushrooms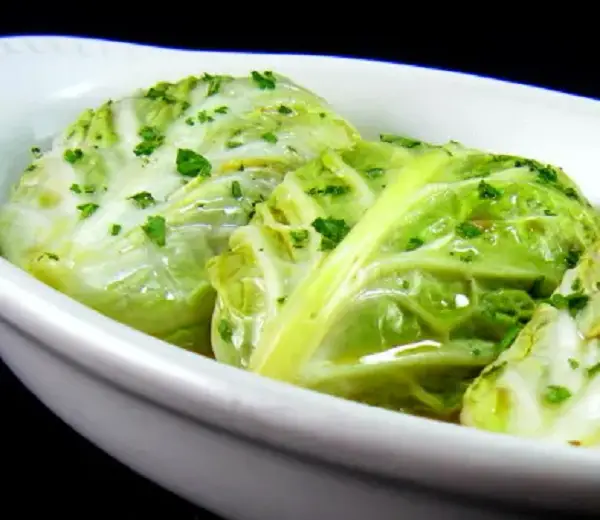 Ingredients:
Yield: 8 cabbage rolls
1 small Savoy cabbage

8 ounces leeks, white and tender green, washed, trimmed and finely chopped

8 ounces wild mushrooms, cleaned and finely chopped

2 tablespoons butter

2 large garlic cloves, minced

1/2 cup slivered almonds

1 tablespoon lemon juice

2 teaspoons sweet paprika

1 large egg, lightly beaten

1 cup low-sodium vegetable broth

Salt and pepper to taste
Directions:
1) Preheat oven to 400 degree F.
2) Remove 8 large outer leaves from cabbage. Bring 6 quarts of water to a boil. Blanch leaves for 1 to 2 minutes to soften slightly. Plunge into cold water to retain color. Drain. Remove tough lower spine.
3) Finely chop 2 cups of remaining cabbage. Melt butter in a large skillet over medium-high heat. Add cabbage, leeks, garlic and mushrooms and saute for about 10 minutes, stirring frequently. Add almonds, lemon juice and paprika to mixture and cook for an aditional 5 minutes. Remove pan from heat and allow to cool. Add egg and salt and pepper to mixture. I used 1/2 teaspoon pepper and 1 teaspoon of salt, but these really should be added according to individual taste. Mix well.
4) Divide stuffing between blanched cabbage leaves. Roll leaves tightly. Place, seam-side down and tightly packed, in a single layer in an ovenproof pan. Pour vegetable broth around the rolls. Cover pan with foil and bake for 20 minutes. Serve piping hot.