Penne with Asparagus and Lemon Sauce
Penne with Asparagus and Lemon Sauce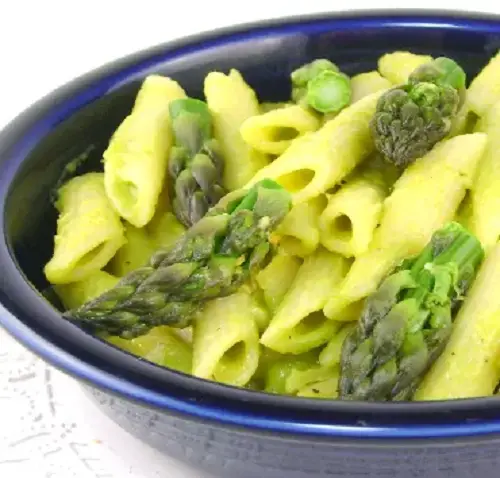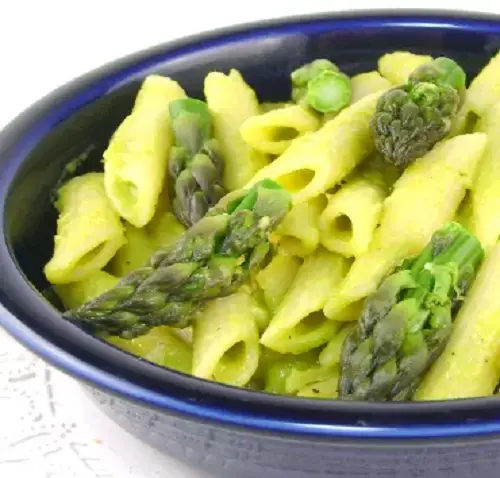 Ingredients:
Yield: 4 to 8 servings.
1 pound fresh asparagus, trimmed

1 teaspoon finely grated lemon zest

1/4 cup extra-virigin olive oil

1 pound penne pasta

1/2 cup finely grated Parmigiano-Reggiano cheese

Salt and pepper to taste
Directions:
1) Cut asparagus into 1-inch pieces, keeping tips separate. Cook stems in a 6-quart pot of boiling salted water until very tender, about 6 minutes. The recommended ratio of salt to water is 1 tablespoon for every 2 quarts of water. Using a slotted spoon, transfer stems to a bowl of cold water to stop cooking and set color. Keep water in pot boiling. Drain stems well and place in a blender jar or bowl of a food processor.
2) Cook asparagus tips in same boiling water until tender, about 3 minutes. Using a slotted spoon, transfer to a bowl of cold water. Let sit for a few minutes, then drain and set aside. Do not put in blender jar.
3) Add lemon zest, olive oil and 1/2 cup of asparagus cooking liquid to asparagus stems and puree. Transfer to a 4-quart saucepan. Set aside.
4) Cook penne in same pot of boiling water for three quarters of recommended cooking time. Reserve 2 cups of boiling liquid. Drain penne and add to sauce along with asparagus tips and 1/2 cup reserved cooking water. Cook over high heat, stirring to prevent sticking, for 3 minutes or until pasta is almost al dente. Add more water, a 1/4 cup at a time until sauce coats pasta but is a little loose. Stir in cheese and add salt and pepper to taste. Stir until cheese is melted. Serve immediately.