Roasted-marinated-red-peppers-italian-cook-laura-vitale
Roasted Peppers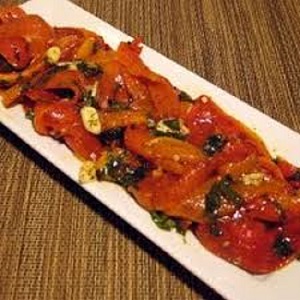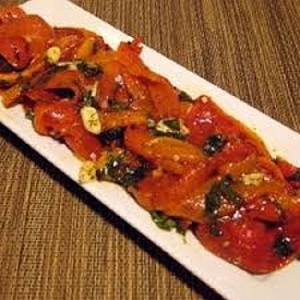 Recipe
Preparation minutes
Cook time minutes
ServingsServes 4-6
Ingredients
5 Large Red Bell Peppers

¼ cup of Extra Virgin Olive Oil

2 Cloves of Garlic (peeled and sliced)

7 Leaves of Fresh Basil (chopped)

1 ½ tsp of Dried Oregano

Salt and Pepper (to taste)
Preparation
 1) Place the peppers on your stove top directly over the flames and roast them turning them to get every side charred and blistered. (if you don't feel safe about roasting them over an open fire on your stove top, just preheat your broiler to high, cut the peppers in half and place them cut side down on a foiled lined baking sheet, broil the peppers until the skin gets charred and blistered, but be aware that you wont achieve the same smoky flavor that they get when they are roasted over an open flame.)

2) Once the peppers are charred enclose them in a large paper bag for 15 minutes, so that the peppers will steam and come to room temperature (this makes it very easy for the charred skins to come off)

3) Meanwhile in a medium bowl mix together the olive oil, basil, oregano, garlic, season with salt and pepper to taste and set aside.

4) Peel and seed the peppers, cut them in ½ inch thick slices, toss in the olive oil mixture. These can be served right away or refrigerated for up to 2 days.
Note: do not rinse the peppers under running water to get the skins off or else you will wash all the flavor off .