Roasted Rack of Pork with Creamy Mushroom Bechamel
Roasted Rack of Pork with Creamy Mushroom Bechamel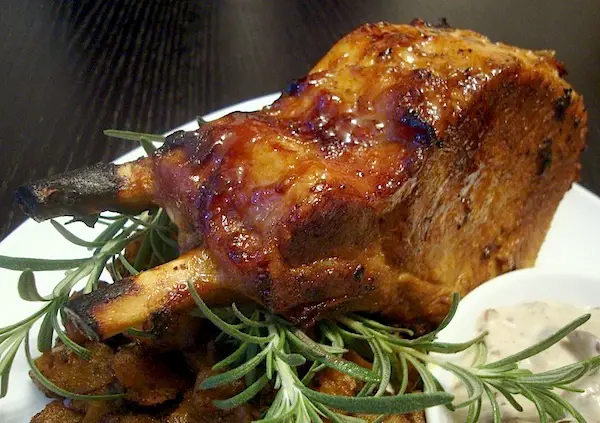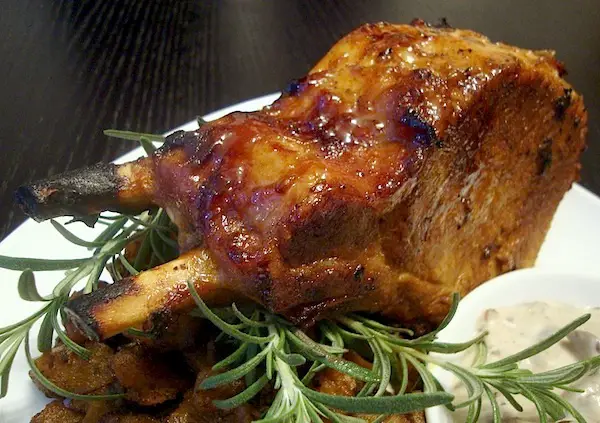 Ingredients
1 6 lb rack of pork

2 cloves garlic, crushed

2 tablespoons whole grain mustard

1/4 cup good quality maple syrup

3 tablespoons extra virgin olive oil

1 tablespoon fresh rosemary, chopped

sea salt and black pepper
Directions
Preheat oven to 400 F

Combine mustard, maple syrup, olive oil, garlic, and rosemary in a bowl and stir to combine.

 Season with sea salt and black pepper.

 Rub roast all over to fully coat with the marinade.

Season with sea salt and black pepper.

Place pork on a rack in a roasting pan and roast until thermometer inserted into the center of pork registers at 140 F (about 1 hour).

Glaze pork occasionally with the pan drippings and any left over marinade.

Remove from the oven and let it rest for 30 minutes before carving.

Continue glazing pork with pan dripping until serving.

Serve with your favorite roasted vegetables and Mushroom Bechamel.
Ingredients
Mushroom Bechamel:
2 cups milk

1/2 cup fresh cream

3 tablespoons butter

2 tablespoons unbleached white flour

1/2 teaspoon nutmeg

2 cups cremini mushrooms, cooked

1/4 cup freshly grated parmesan cheese

Salt and black pepper
Directions
In a medium pan, heat the butter over medium to high until it melts.

Add flour and whisk until smooth.

Keep over medium heat until it turns slightly darker in color (about 4 minutes).

 Meanwhile heat milk in a medium saucepan until just about to boil.

Add to the flour mixture one cup at a time whisking constantly until all the milk is used up and sauce is smooth.

Bring sauce to a boil and cook a further 10 minutes, whisking constantly.

Mix in mushrooms, parmesan, and nutmeg.

Season with salt and black pepper to taste.