Salted Cod Salad Recipe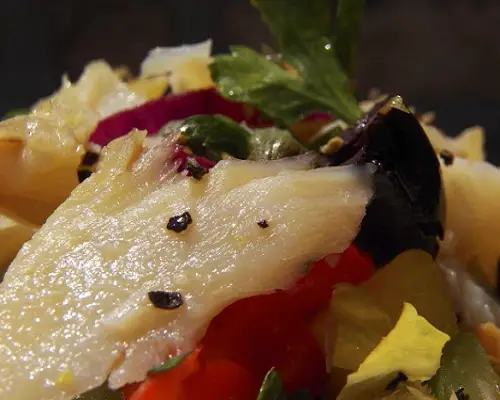 Ingredients
1lb (455 g) of baccalà (See Variations)

pickled bell peppers, chopped (See Notes)

1/2 yellow bell pepper, chopped

1 celery stalk, chopped

red onion chopped

nonpareil capers, rinsed

Kalamata olives, halved

1/4 cup fresh parsley, chopped

extra virgin olive oil

red wine vinegar — lemon juice may be substituted

salt & pepper, to taste
Directions
To ready the baccalà: Place the fish in an oblong glass dish or pan. Add enough water to cover, dump the water, and repeat a few times. Add enough water to cover and set aside. Change the water 3 times daily for at least 1 day and no more than 3. When ready, the cod will be considerably thicker than when your started and will taste far less salty. (See Notes)

Remove any bones and skin before proceeding,

Bring a large pot of water to the boil.

Meanwhile, cut the re-hydrated baccalà into chunks from 3 to 4 inches apiece.

When the water is boiling hard, add the baccalà and, when the water returns to the boil, reduce the heat to a soft simmer.

Simmer until the baccalà can be easily flaked, usually about 5 to 8 minutes.

Using a slotted spoon or small strainer, remove the baccalà from the water and set aside.

Once cool, carefully flake baccalà and place in another bowl.

To that bowl, add the peppers, celery, onion, capers, olives, and parsley. Gently toss the ingredients until combined.

Add enough of the olive oil to lightly coat the salad, followed by the vinegar/lemon juice to taste. Season with pepper but be sure to taste before adding any salt.

If not to be served immediately, cover and refrigerate until you're ready to do so.
Variations
This recipe used raw salted cod, baccalà, to make the salad. The salad could also be made using left-over baked, broiled, or grilled baccalà, as well. When using left-over cod, there's no need to boil or cut it up into chunks. Skip those steps and start flaking the pieces.
You can vary the salad ingredients to suit your own tastes. Carrots, shallots, garlic, etc., can be added or used to substitute for any of the ingredients listed.