Sausage & Kale Stew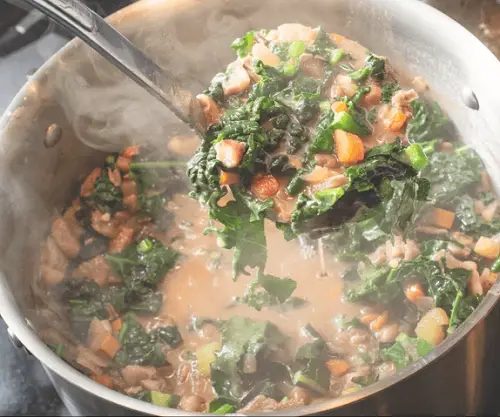 INGREDIENTS
    2 tablespoons oil

    2 onions

    2 large carrots

    2 cloves garlic

    1 bunch of kale (or spinach, swiss chard, etc.)

    2 cups canned diced tomatoes with liquid

    2 cups of stock (chicken, beef, veggie all work)

    2 cups canned cannellini beans

    2 sausages

    Salt and pepper to taste
TOOLS YOU NEED
    Abbio Stock Pot

    Measuring cups

    Cutting board

    Knife

    Ladle
PREP
Dice onion

    Dice carrots

    Remove kale from stems and cut into pieces

    Mince garlic

    cook sausages and cut into bite sized pieces
RECIPE DIRECTIONS
    Heat oil in Abbio Stock Pot over medium heat.

    Add onion, carrot, and garlic to the pan and cook until softened, about three minutes.

    Add the kale and mix well.

    Add tomatoes and cook for about 5-7 minutes until the excess tomato juice has started to cook off.

    Add beans and stock, and bring the stew to a low simmer.

    Partially cover the pot with the lid, and simmer for 30-45 minutes, until the kale is soft and tender and the stew is thick.

    Stir in the sausage and serve with crusty bread and parmesan cheese.