Sauteed Tilapia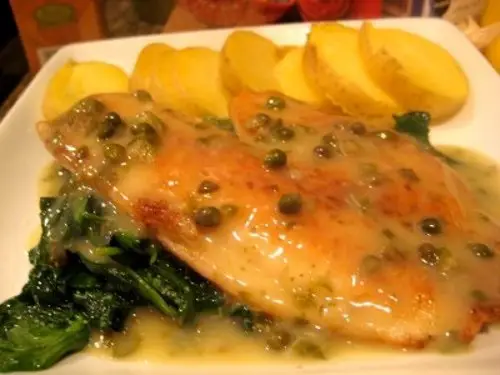 The sauce is a simple one. It's a traditional caper sauce made with a wine, broth and lemon reduction finished with butter which thickens the sauce up a bit and gives it a sweeter creamier flavor.
Sautéed Tilapia
INGREDIENTS
Serves 4 people.
1 cup of flour for dredging

1 tsp of salt

1 tsp of fresh ground black pepper

1 pound of tilapia fillets

2 Tbls of olive oil

1 bunch of long green onion, chopped

2 cloves of garlic, finely chopped.

1 Tbls of capers

3/4 cup of white wine

1/2 cup chicken broth

Juice of 1 lemon

2 Tbls of butter
PREPARATION
Place the flour in a shallow bowl and season with salt and pepper..

Dredge the tilapia filets in the flour.

In a large pan, sauté the tilapia fillets in the olive oil until browned on both sides about 3 minutes on each side.

Remove fish from the pan and set aside on a warm platter.

Add a little more oil to the pan and sauté the onions and garlic until tender.

Add the capers, wine, broth and lemon juice to the pan.

Bring to a boil and reduce to around half.

Turn off the heat and finish the sauce by stirring in the butter.

Plate the tilapia and spoon over the sauce.