Scallop, Mushroom, and Fennel Campanelle
Scallop, Mushroom, and Fennel Campanelle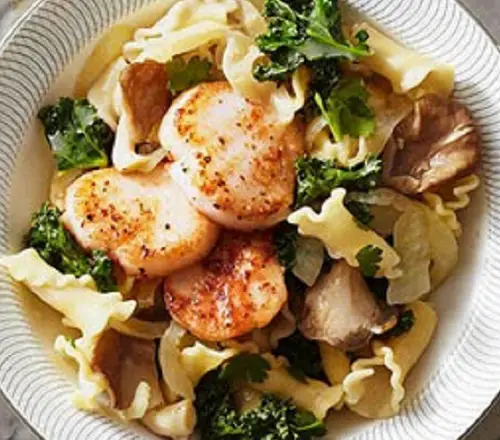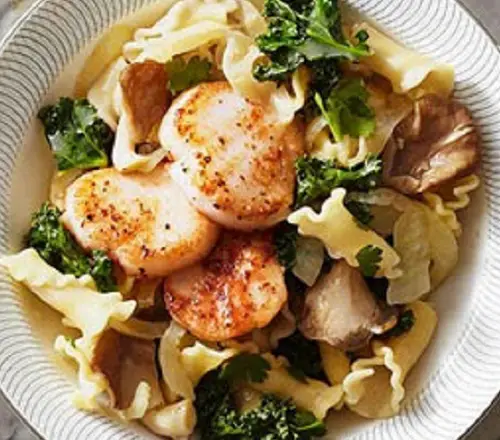 What You Need
 

       8 

ounces 

fresh or frozen sea scallops

       

6 

ounces 

dried campanelle pasta

      

1/4

 teaspoon 

salt

       

1/4

 teaspoon 

black pepper

       

3 

teaspoons 

olive oil

       

2 

cups 

fresh oyster mushrooms, cut into 2-inch pieces

       

2 

cloves 

garlic, minced

      

2 

cups 

chopped kale

      

1 1/2

 cups 

thinly sliced fennel

       

1/4

 cup 

dry white wine

       

1/4

 cup 

light butter with canola oil

       

2 

tablespoons 

snipped fresh parsley

       

2 

tablespoons 

lemon juice

       

1/8

 teaspoon 

salt
How to Do
Thaw scallops if frozen. Rinse scallops; pat dry with paper towels. In a large saucepan cook pasta according to package directions. Drain; set aside.

 

Sprinkle scallops with the 1/4 teaspoon salt and the pepper. In a large nonstick skillet heat 1 teaspoon of the olive oil over medium heat. Add scallops; cook 2 to 4 minutes or until scallops are opaque, turning once. Remove from skillet; keep warm. Add another 1 teaspoon of the oil, the mushrooms, and garlic. Cook about 4 minutes or until mushrooms are tender. Remove from skillet; keep warm. Add the remaining 1 teaspoon oil, the kale, and fennel. Cook about 7 minutes more or just until kale and fennel are tender.

 

Remove skillet from heat and add wine. Return to heat. Add butter, parsley, lemon juice, and the 1/8 teaspoon salt; stir to combine. Add the cooked pasta and the mushroom mixture to the butter mixture; toss to combine. Heat through. Divide pasta-mushroom mixture among four serving bowls. Place scallops on top of pasta-mushroom mixture.
http://agneseitalianrecipes.blogspot.com