Seafood Brodetto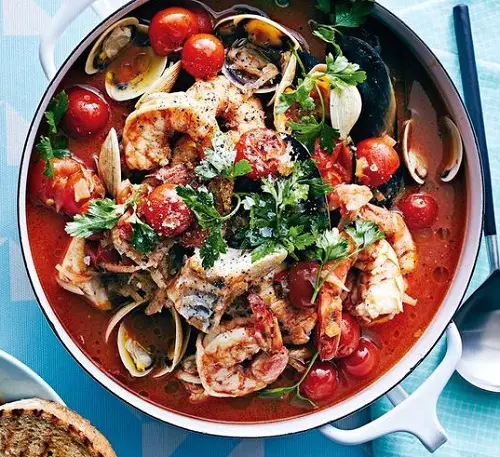 Ingredients
1⁄4 cup (60ml) extra virgin olive oil
2 eschalots, thinly sliced
1 red chilli, chopped
6 flat-leaf parsley stalks, finely chopped
2 garlic cloves, finely chopped
2 cups (500ml) good-quality fish stock
3 x 400g can cherry tomatoes
600g firm white fish fillets, cut into 4 pieces
12 tiger prawns, peeled, deveined, tails intact
500g pot-ready mussels
500g pot-ready vongole
150ml white wine
flat-leaf parsley leaves and grilled sourdough, to serve
1. Heat the olive oil in a large heavy-based saucepan over medium-high heat. Add the eschalots, chilli, celery and parsley stalks, and cook for 3–4 minutes to soften, stirring occasionally. Add the garlic and cook for a further minute until fragrant.

2. Pour in the fish stock and tomatoes and season. Bring to the boil, then reduce the heat to medium- low and simmer gently for 35–40 minutes to develop the flavour. Season to taste.

3. Add the fish pieces and cook for 3 minutes. Add the prawns and simmer for another 2 minutes or until cooked through.
4. Meanwhile, heat a saucepan over high heat. Add the mussels, vongole and wine. Cover and cook for 3–4 minutes until the shells open. Add to the brodetto.

5. Divide among serving bowls, garnish with parsley leaves and serve with grilled sourdough.