X'mas Hazelnut Cookies (Dolcetti alle Nocciole)
X'mas Hazelnut Cookies (Dolcetti alle Nocciole)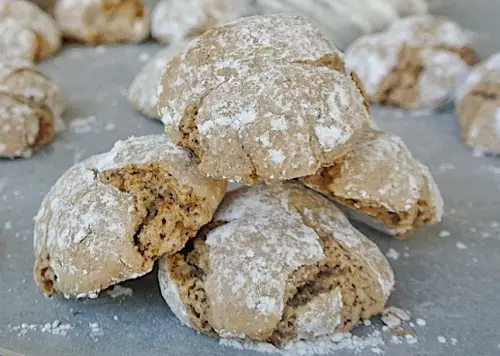 INGREDIENTS,
makes 20
2 egg whites

1 cup of hazelnut meal (ground hazelnuts)

1-1/2 cup of icing sugar, plus more for rolling the cookies in

1 teaspoon of vanilla extract, or the seeds from half vanilla bean
HOW TO
1. Heat up your oven to 180 C (350 F)
2. Mix egg whites, ground hazelnut, vanilla and sugar in a large bowl until a thick paste forms.
3. Pinch off small bits of paste to shape balls the size of a large walnut.
4. Generously roll the balls in plenty of icing sugar.
5. Place the cookies, well distanced apart, onto an oven tray lined with baking paper.
6. Bake for 18-20 minutes or until cracked and beautifully puffed up.

Cool at room temperature and merrily consume with glee.

Silvia's Cucina is on Facebook , Twitter and Instagram
Silvia's Cucina the cookbook is now available in stores