Shells with Ham, Asparagus and Cheese
Shells with Ham, Asparagus and Cheese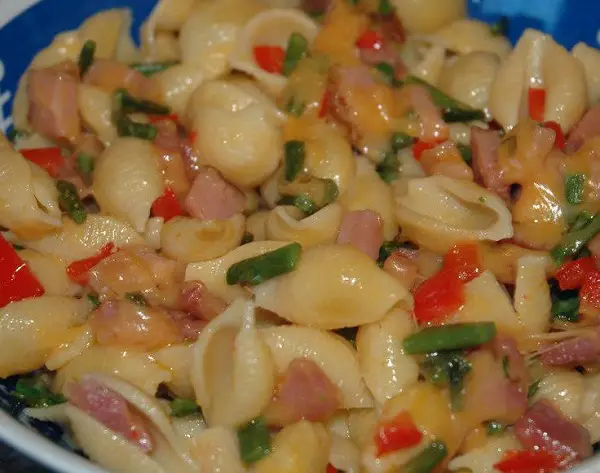 Ingredients
    1 lb. medium pasta shells

    1-2 TBSp olive oil

    1 small, red pepper, diced

    1 small bunch of fresh asparagus, trimmed & diced into 1-2″ pieces

    1/2 lb. thick-sliced ham

    s & p, to taste

    1 c mixed, shredded cheddar cheese
Directions
Cook pasta al dente (save 1/2 c of cooking water before draining.)

In a deep-sided saute pan, heat the olive oil.

 Add the pepper, asparagus & ham. Saute until the veg is tender.

 Drain the pasta, reserving 1/2 c of the cooking water… Add the pasta to the saute pan with the ham & veg… Quickly stir in the shredded cheese.

Add as much of the reserved cooking water as needed to thin out the cheese & combine the ingredients. Serve!