Shrimp Saute with Orzo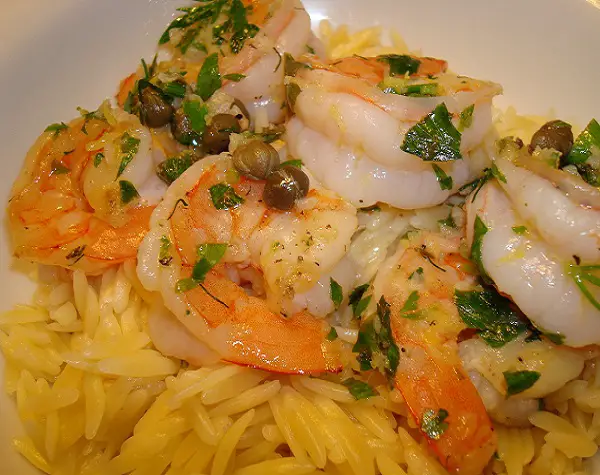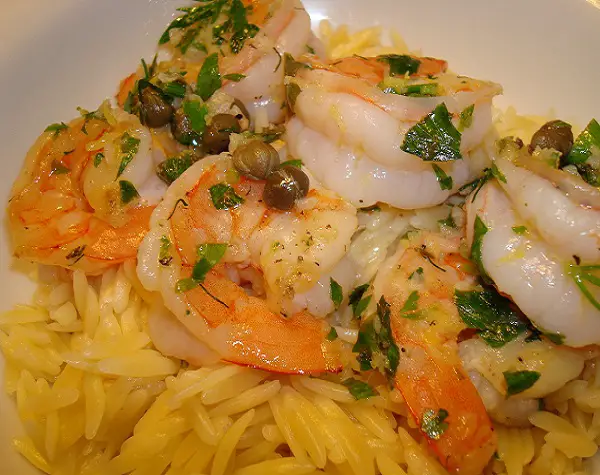 Ingredients
Makes 2 servings
1/2 c uncooked orzo

1 tbsp olive oil

salt and freshly ground black pepper

2 cloves garlic, minced

10 large shrimp, peeled and deveined, tail off

1/8 c fresh flat leaf parsley, finely chopped

1/2 lemon zested and juiced

1/2 c dry white wine

1 tsp unsalted butter

1 tsp capers
Directions
Bring a medium saucepan of salted water with a splash of olive oil to a boil.

 Add orzo and cook until al dente (about 10 minutes). Drain and set aside.

Meanwhile, heat oil in a large skillet.

Add garlic and cook over low heat for 1 minute, be careful not to burn.

 Add shrimp, salt and pepper, and half of the parsley.

Cook for 3 to 4 minutes over low heat.

Turn and cook for 2 to 3 more minutes or until opaque.

Remove from pan and keep warm.

Add lemon juice and wine to skillet.

Bring to a boil then lower heat and reduce by half, about 2 or 3 minutes.

Remove from heat. Add remaining parsley; stir in butter, lemon zest and capers.

 Adjust seasonings if necessary and pour sauce over shrimp and serve over a bed of orzo.