Sicilian Braised Chicken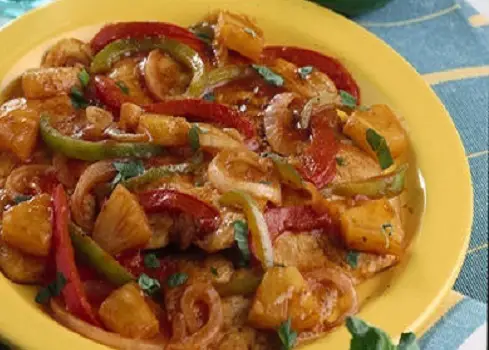 Ingredients:
4 chicken breasts,boneless and skinless

1 tsp of salt

1 tsp of fresh ground black pepper

3/4 cup of flour for dredging

3 Tbs of extra virgin olive oil

1 Tbs of butter

1 medium onion, sliced

1 rib celery, diced

1 carrot, diced

1 green bell pepper, sliced

1 red bell pepper, sliced

1 15oz can of pineapple chunks, drained

3 Tbs white wine vinegar

1/2 cup of white wine

1 15oz can of chicken broth

2 bay leaves

1/2 cup raisins

4 Tbs capers
Preparation:
Season the chicken with the salt and pepper and dredge them in flour.

In a large skillet, brown the chicken breasts in the oil and butter.

Remove the chicken from the pan and set aside.

Add the onions, celery, carrots and peppers and saute around 7 to 10 minutes until slightly tender.

Add the pineapple and vinegar to the pan and cook for 2 minutes.

Return the chicken to the pan.

Add the wine and reduce by half

Add the chicken broth and bay leaf and cover and simmer until chicken is tender. Around 20 to 30 minutes.

Add the raisins and capers and simmer for 5 minutes longer.

Plate the chicken and top with the peppers and onion mixture. Serve with vegetables or on top of pasta.
http://www.great-chicago-italian-recipes.com/sicilian_braised_chicken.html