Sicilian Eggplant with Salami Bake
Sicilian Eggplant with Salami Bake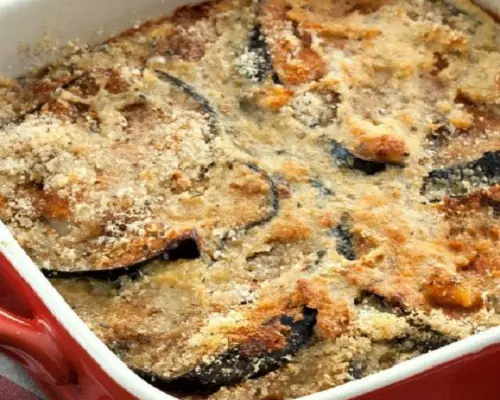 Ingredients
    3 medium eggplants

    1 cup tomato passata

    2 eggs

    4 oz. breadcrumbs

    1 tbsp oregano

    2 oz. salami roughly chopped

    2 oz. Pecorino Romano finely grated

    5 oz. mozzarella roughly chopped

    Extra virgin olive oil

    Salt to taste
Instructions
    Slice the eggplant into ½ inch thick slices and soak them in salty water for 30 minutes.

    Pat them dry and fry the eggplant slices in vegetable oil until golden.

    Put them in a colander to drain the excess oil.

    Mix the grated Pecorino Romano, breadcrumbs and oregano and keep aside.

    To assemble the eggplant bake, put a scoop of tomato sauce at the bottom of an oven proof dish. Top with a layer of fried eggplant, tomato passata, salame, mozzarella and the breadcrumb and Pecorino Romano mixture. Then repeat the layers until you run out of eggplant. Finish the top layer with the breadcrumb and Pecorino Romano mixture.

    Lightly beat the eggs with some salt.

    And pour it on the top of the eggplant bake.

    Bake in a pre-heated oven at 355°F for 15-20 minutes or until golden brown.
Serve warm.