Soffioni di Ricotta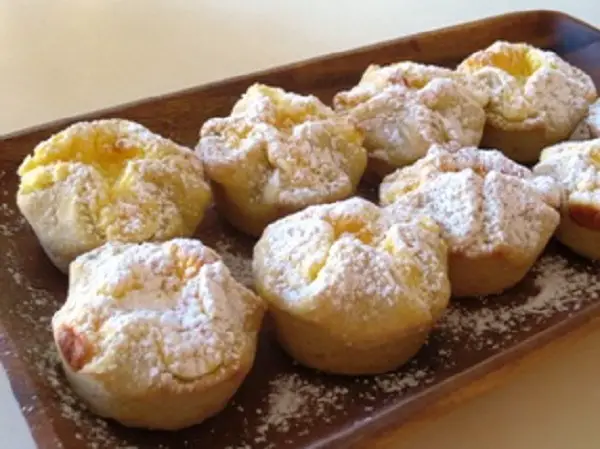 These simple ricotta pastries are from the Abruzzo region of Italy. They are typically prepared during the Easter season but are also consumed throughout the year.

Ingredients:
Dough:
2 cups all-purpose flour

1/4 cup granulated sugar

Salt

2 large eggs

2 tablespoons olive oil
Filling:
8 ounces whole milk ricotta cheese

2 large eggs, separated

2 tablespoons granulated sugar

1 teaspoon finely grated lemon zest

Butter for greasing muffin tin

Confectioners' sugar for dusting
Directions:
To make the dough:
In a large bowl, combine the flour, sugar and a pinch of salt.

Make a well in the center of the flour mixture and add the eggs and oil.

Use a fork to gently break up the egg yolks and slowly incorporate the flour into the liquids.  Then use your hands to knead the mixture in the bowl until a dough forms.  If the mixture is too dry to come together into a dough, add a little water, 1 tablespoon at  time, until you can form a ball of dough.

Transfer the dough to a lightly floured surface and knead the dough until smooth, 2-3 minutes.  Wrap the dough in plastic wrap and allow to rest at room temperature for 30 minutes.  In the meantime, make the filling.
To make the filling:
In a large bowl, whisk together the ricotta, egg yolks, sugar and lemon zest until smooth.  In the bowl of an electric mixer, beat the egg whites to stiff peaks.  Gently fold the egg whites into the cheese mixture.
To Make
Preheat the oven to 375 degrees F.

Grease 9 muffin cups with butter.

On a lightly floured surface, roll out the dough to a 14-inch square.

Using a fluted pastry wheel, cut off 1-inch of the dough on each side of the square, leaving you with a 12 x 12-inch square.  Then use the pastry wheel to cut out 9 (4-inch) squares from the dough. Fit the squares into the prepared muffin cups, pressing the centers into the cups and letting the corners of the pastry overlap the edges of the cup.

Divide the filling evenly among the dough-lined cups, then fold the dough corners over the filling (the filling will not be completely covered.)

Bake for 25 to 30 minutes, or until the pastries are puffed and lightly golden.  Cool in the pan on a wire rack for 10 minutes.

Gently twist the pastries to release them from the cups.  Serve warm or at room temperature, dusting with confectioners' sugar before serving.

The pastries will keep well in an airtight container for 2-3 days but they are best served the day they are baked
from https://www.mangiabenepasta.com/easter_ricotta_pastries.html