Wild Mushroom Carbonara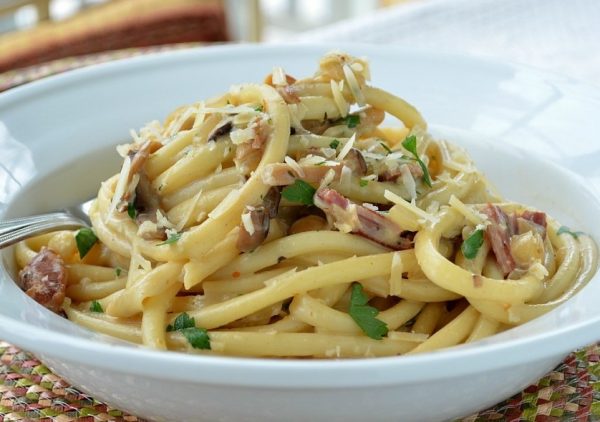 Ingredients
Serves: 4 – 6
    3 slices good, thick-cut bacon

    1 ½ pounds assorted wild mushrooms (such as shiitakes, creminis & oyster mushrooms), cleaned and sliced

    1 large onion, diced

    6 large garlic cloves, minced

    ½ teaspoon dried thyme

    ¼ to ½ teaspoon hot red pepper flakes, to taste

    1 cup dry white wine

    1 pound linguine

    3 duck eggs (or 2 chicken eggs & 2 yolks), beaten vigorously

    1 cup finely grated Parmigiano Reggiano

    Freshly chopped parsley

    Kosher salt

    Black pepper
Instructions
    In large skillet or Dutch oven set over medium-low heat, sauté bacon until crispy. Remove bacon and roughly chop it, drain off all but 1 tablespoon of the bacon fat, increase heat to medium-high, and add mushrooms to the pan. Season mushrooms to taste with salt and pepper and cook, stirring occasionally, until brown. Remove mushrooms and set aside.

    Add another 2 tbsp. of bacon fat or olive oil to the pan; add the onions, season with salt and pepper, and sauté until very soft, 7 to 10 minutes. Add garlic, chopped bacon, thyme, and pepper flakes and sauté until fragrant, about another minute. Add white wine and sautéed mushrooms, and cook until the wine has reduced almost completely. Keep warm over very low heat.

    Meanwhile, bring a large pot of well-salted water to boil over high heat. Cook linguine until al dente, reserve 1 cup of pasta cooking liquid, and then drain the pasta. Add the pasta to the onions, bacon, and mushrooms, stir to combine, and turn off the heat.

    Using a rubber spatula, start vigorously stirring the linguine and then slowly pour in the beaten eggs. DO NOT STOP STIRRING. Keep stirring until the eggs have formed a creamy sauce, adding pasta water if necessary. Add the Parmigiano and keep stirring vigorously. Season to taste with salt and pepper. If the pasta has cooled too much during this process, turn the heat back on to low and stir constantly until the pasta has warmed up again.

Serve garnished with fresh parsley and more Parmigiano.