Spaghetti alla Chitarra all'Amatriciana Recipe
Spaghetti alla Chitarra all'Amatriciana Recipe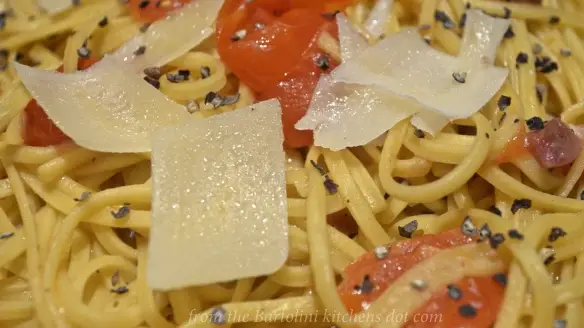 Ingredients
spaghetti alla chitarra, not quite fully cooked — bucatini may be substituted
1 to 2 tbsp extra virgin olive oil
1 to 4 oz (28 to 112 g) guanciale, cut in lardons — pancetta may be substituted (See Notes)
crushed red pepper flakes to taste (optional)
1 clove garlic, crushed (optional)
cherry tomatoes, halved – quantity depends upon preference and servings prepared (See Notes)
Pecorino Romano cheese
salt and pepper
Directions
Cook pasta in a large pot of salted water. (See Notes)
Meanwhile, heat guanciale in a large frying pan over medium heat.
When all the guanciale's fat is just about rendered, add red pepper flakes and a crushed clove of garlic, if using. Add a little olive oil if the pan is too dry.
When the garlic is golden brown, remove and discard it. By this point, the guanciale should be cooked but not "to a crisp".
The pasta should be nearing completion. Add the tomatoes to the frying pan. Raise the heat to med-high.
Reserve a cup of the pasta water before draining the pasta.
Add the pasta to the frying pan, stir and cook all the ingredients together until the pasta is cooked al dente. If too dry, add some of the pasta water to compensate.
Turn off the heat, add a handful of grated Pecorino Romano cheese, and mix to combine. Add more pasta water if too dry.
Serve immediately, garnished with more Pecorino Romano cheese and freshly cracked pepper.
Notes
The most important issue when preparing pasta alla Amatriciana has to do with timing. If using freshly made pasta, as I did, the sugo will need to be almost fully cooked when the pasta is added to the water since the pasta will be ready in 2 to 3 minutes. If using store-bought or dried pasta, follow the package directions and drain the pasta when it is about 2 minutes shy of al dente.
Although guanciale is preferred, not everyone can find this Italian pork product. Pancetta may be substituted, as can non-smoked bacon. As much as I love smoked bacon, its smoky flavor would overpower the rest of this simple dish.
The dish I was served used halved cherry tomatoes. You could easily substitute one or two chopped fresh tomatoes, depending on the portions to be served.