Spaghetti Alla Marinara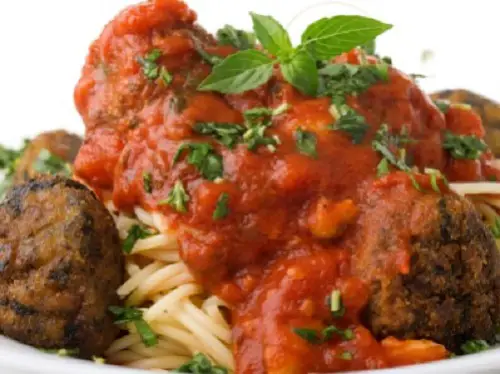 SIMPLY DELICIOUS
Spaghetti alla Marinara is one of the easiest and fastest recipes to make. A nice pile of pasta topped with homemade sauce will liven up the dullest Sunday afternoons.
INGREDIENTS
1lb. Spaghetti

1 28oz can of pureed plum tomatoes

1 6oz. can of tomato paste

1/2 cup of dry red wine

1 onion chopped

1 tsp dried basil

1 tsp dried oregano

3 or 4 cloves of crushed garlic

1/4 cup of fresh parsley

2 Tbl extra virgin olive oil

Freshly grated Parmesan cheese
PREPARATION
Saute onions an garlic in oil for around 10 minutes.

Add tomato puree, paste and wine and stir.

Add basil and oregano and let simmer for at least two hours or more stirring occasionally. The longer the better.

Top with parsley the last 5 minutes and your ready to serve.

Boil pasta in around 6 quarts of water until "al dente".

Place sauce on the pasta and top with cheese.Serve with meatballs, sausage and garlic bread.
MEATBALLS
INGREDIENTS
1 pound ground beef

1/2lb. ground pork

2 large eggs

1/2 cup of finely chopped long green onions

1/2 cup bread crumbs

1/4 cup of grated romano cheese

1/4 cup chopped fresh parsley

2 cloves of finely chopped garlic

1/4 cup of vegetable oil
PREPARATION
Mix all the ingredients in a large bowl.

Roll meat into ball shapes.

Heat skillet with oil.

Fry meatballs until golden brown.

Drain oil on a paper towel and serve.