Spaghetti Syracuse Style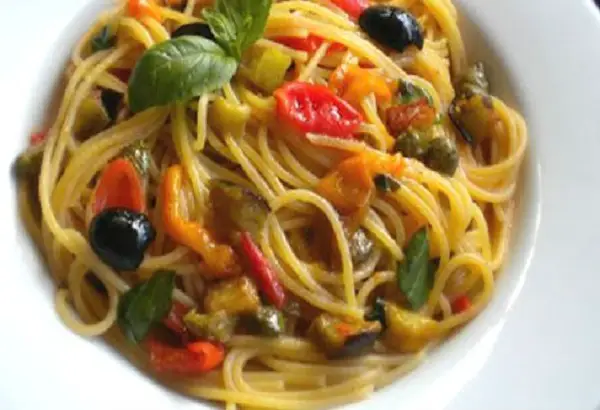 Ingredients
for 4 people:
Spaghetti 400 gr

1 eggplant

1 pepper

2 tablespoons of capers

black olives 100 gr

tomatoes 300g

½ cup of extra virgin olive oil

1 clove of garlic

anchovy fillets in salt 50g

some basil leaves

salt, pepper.
PREPARATION
Roast pepper then remove skin, seeds and filaments them cut into strips.

Wash eggplant and remove the stems, then cut it into cubes and place in a dish covering it with salt to eliminate bitter fluid vegetation.

Meanwhile, sauté the garlic in the oil and, when it becomes golden, remove it and add the anchovies; stir well with a wooden spoon until the anchovies will be completely dissolved.

Now rinse the eggplant and squeeze gently then add them to the pan with the sauce of anchovies and fry.

As soon as the eggplant will be golden, add the tomatoes cut into strips, peppers, capers, olives and a few leaves of fresh basil.

Season with salt and pepper and cook over moderate heat for about 15 minutes.

Separately, boil the spaghetti in plenty of boiling and lightly salted water and just are cooked, drain and flavor with the sauce.

Serve warm.