Spiced Apple Cranberry Pancakes
Spiced Apple Cranberry Pancakes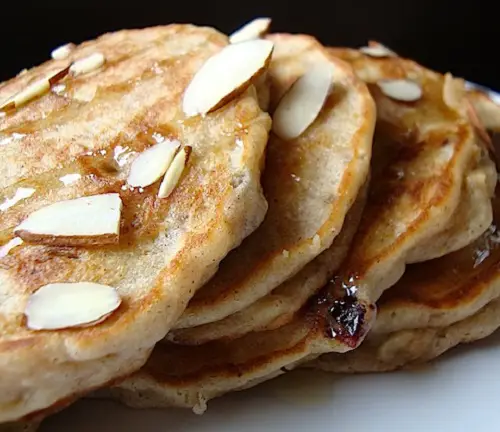 Ingredients
1 1/4 cup all purpose unbleached flour

1 cup apple (remove skin, cored, and chopped finely)

1/2 cup dried cranberries

1 cup full cream milk

1/4 cup sour cream

1 tablespoon pumpkin spice

1/2 cup butter, melted

2 eggs, room temperature

1/2 cup sugar

1 teaspoon salt

1 teaspoon baking powder
Directions
In a mixing bowl, combine apples, pumpkin spice, and sugar.

Blend the rest of the ingredients together until smooth. Fold in apples and cranberries.

Heat a lightly buttered griddle or frying pan over medium heat.

When griddle or pan is hot, pour a 1/4 cup of the batter into the griddle.

 Cook until bubbles appear on the surface (about 1 to 1 1/2 minutes).

Flip over and cook a further 2 minutes or until golden brown.

Remove and keep warm. Repeat with the rest of the batter.