Spicy Spaghetti with Three Peppers and Onions
Spicy Spaghetti with Three Peppers and Onions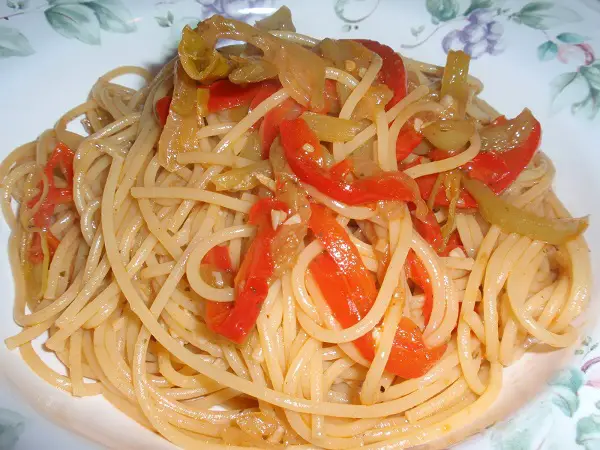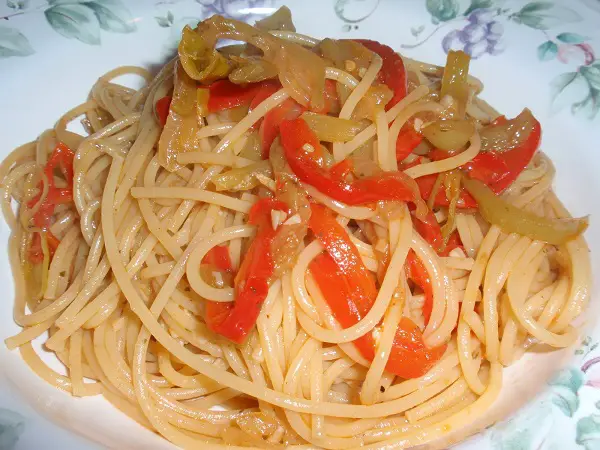 Ingredients:
1 pound spaghetti

Extra virgin olive oil

1 large red bell pepper, quartered lengthwise seeded, and thinly sliced

2 cubanelle peppers, halved lengthwise, seeded, and thinly sliced

6 marinated tuscan peppers, tops cut off, seeded and thinly sliced

1 large vidalia onion, thinly sliced

4 cloves garlic, minced

1/2 cup – 3/4 cup of tuscan pepper liquid

1 tbsp tomato paste

2 tbsp butter

About 1/2 cup chicken stock or pasta water (or both)

2 tbsp basil (dorat frozen cubes)

Romano cheese

Salt and pepper

1 tsp crushed red pepper flakes
Directions:
Bring a large pot of water to a boil, salt the water and cook the spaghetti until al dente.

While water is coming to a boil,

Heat EVOO in a large skilled over medium-high heat. Add onions, red and cubanelle peppers as you slice them, stirring occasionally.

When onions and peppers are softened (about 10 minutes) push veggies aside and add butter garlic, crushed red pepper and tuscan peppers to the center of the pan.

Continue to cook for a few minutes and then add tomato paste and basil. Stir to combine.

Add salt and black pepper.

Add juice from peppers, and stir. Let it cook for a minute and add some chicken stock as needed. Let continue to cook on low until pasta is ready.

Strain pasta (reserving some pasta water) when it is slightly undercooked.

Add to peppers and toss to combine and coat pasta with the sauce.

Add a ladle of pasta water if needed.

Toss with some romano cheese.