Chicken Rollatini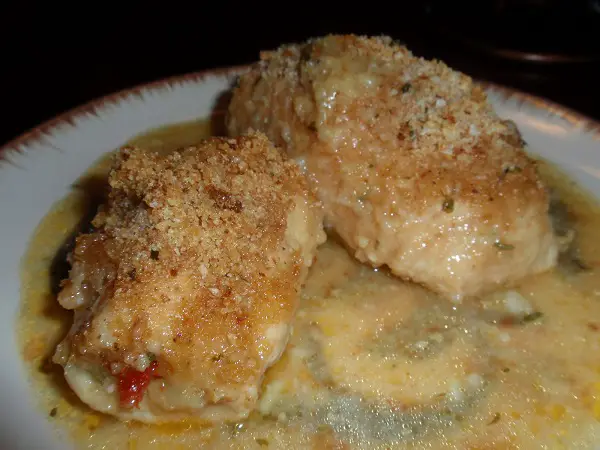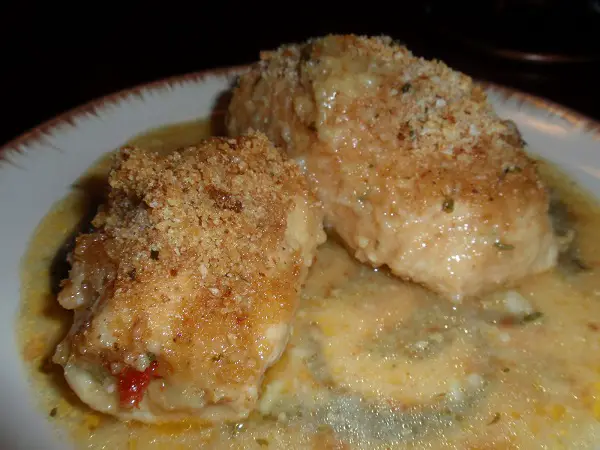 Ingredients:
1 pound chicken cutlets, pounded thin

Mozzarella, shredded or cut into strips (not fresh because it is too soft and may come out of the rolls)

 1 cup seasoned bread crumbs mixed with approx 1/2 cup romano cheese and 1-2  tsp garlic powder

1 cup chicken broth

Sun dried tomatoes packed in oil, sliced

Extra virgin olive oil

2 tablespoons butter, 1 tbsp cut into small pieces (will need one pat per chicken roll)

Toothpicks
Directions:
Drizzle a combo of extra virgin olive oil and the oil from the sundried tomatoes into a small baking dish.

 Drizzle the tops with a little oil.

 Lay out chicken cutlets in it and sprinkle with salt and pepper on both sides.

On one side of the cutlet about an inch in add approx 4-5 slices of sun dried tomato and about 1 tablespoon of shredded cheese.

Roll short side over the fillings and continue to roll and tuck in the sides.

Secure with toothpicks.

Roll the chicken in some of the oil in the baking dish and dip in breadcrumb and cheese mixture and place back in baking dish.  Continue until all the chicken is rolled and filled.

 Place a tsp of crumb mixture on top of each roll and top with a small pat of butter.

Add chicken broth around the chicken.

 Cover with foil. Bake at 350 for 30 minutes.

Remove foil and continue to bake for another 10 minutes or until cooked through and lightly browned on top.

When you remove it from the oven swirl a tablespoon of butter in the hot liquid.

Serve each roll with some of the sauce around it.  The sauce is great for dipping bread.