Pumpkin Bread Pudding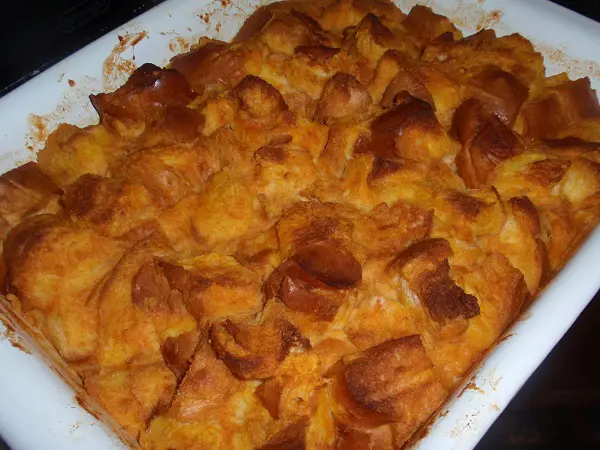 Ingredients:
1 loaf of challah bread, cut into cubes (or slices)

1 small can of pumpkin puree

2 cups of half and half

2 cups of whole milk

1 cup sugar

Sprinkling of cinnamon and nutmeg, to taste

6 eggs, beaten

Powdered sugar, optional
Directions:
Preheat oven to 375 degrees.

Place cubed bread on a baking sheet and bake until toasted and browned (10-15 mins).

Combine half and half, milk and sugar, add pumpkin, eggs, cinnamon and nutmeg.

Transfer bread cubes to a 9x13x2 casserole dish and cover with milk mixture.

Toss all the bread to coat.

Wrap with plastic wrap and allow bread to absorb milk in the refrigerator overnight.

The next day bake in a 375 degree oven for about 1 hour or until all the liquid is absorbed.

  Sprinkle with powdered sugar.

Serve warm, room temperature or cold.