Apple Fritters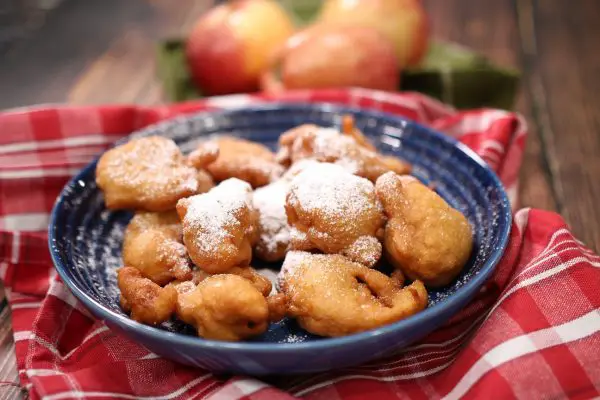 These apple fritters are so delicious and simple to make! They remind me of zeppole. You can easily adjust the amount of cinnamon added as well in case you prefer a stronger cinnamon taste. Top off with a sprinkle of powdered sugar or serve with a scoop of your favorite ice cream. Makes for a tasty dessert!

Ingredients
    2 cups All Purpose Flour

    2 Eggs

    1 tsp. Vanilla Extra

    1 oz. Vodka

    2 Tbsp. Sugar

    1/2 tsp. Cinnamon

    2 tsp. Baking Powder

    1 cup Milk

    2 Gala Apples peeled and shredded

    1/2 Lemon

    Pinch Salt

    Powdered Sugar for topping
Instructions
    Heat a deep sauté pan filled halfway with vegetable oil. Heat over low while preparing the ingredients.

    After peeling and shredding the apples, squeeze the juice out of the half of lemon over the apples and mix together to keep the apples from browning too much.

    Separate the yolks from the egg whites into two separate bowls. Add the sugar into the bowl with the yolks and whisk together using a hand mixer with a whisk attachment. Add a few drops of vanilla extract. Whisk until creamy and pale white in color, about three minutes.

    Add in the milk and vodka and mix together with a spatula.

    Mix the flour, baking powder and cinnamon together in a separate bowl. Once mixed, add it into the egg yolk bowl and mix together.

    Add the apples into the bowl and mix.

    Add a pinch of salt into the egg whites bowl. Using the hand mixer with a clean whisk attachment, whisk on a medium speed for about 3 minutes until thickened and can create stiff peaks. Add it into the apple bowl and fold it into itself to mix.

    Test the oil being heated in the deep sauté pan with a toothpick. Dip the toothpick end into the oil and if the oil bubbles around the toothpick, it is ready. Set the flame/heat to medium and start adding in the apple fritters. Scoop in the apple fritters using a tablespoon. You can use a teaspoon to scrape the fritters off of the tablespoon. Do this in smaller batches to not overcrowd.

    Make sure to turn over to cook evenly and fry until golden brown in color, about three minutes. Scoop out of the pan and place on a paper towel lined plate.

    Sprinkle with powdered sugar.