Spinach Bread Pudding with Lemon and Feta
Spinach Bread Pudding with Lemon and Feta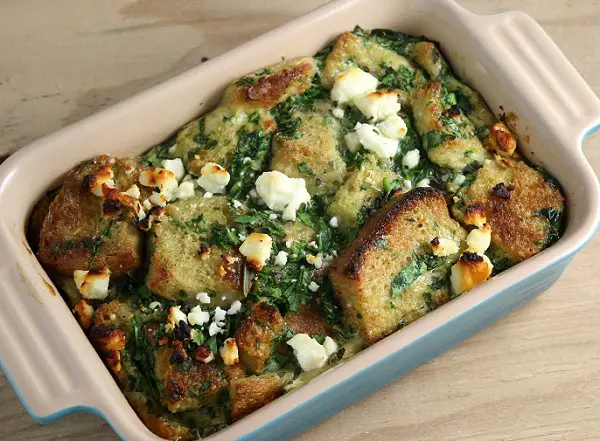 Ingredients
Makes 8+ servings
3 tablespoons extra-virgin olive oil

8 ounces bread, cut into 1/2-inch cubes

6 ounces baby spinach, finely chopped

1/2 cup crumbled feta cheese, divided

2 teaspoons Dijon mustard

1/2 teaspoon grated lemon zest

1 tablespoon lemon juice

6 large eggs, beaten

2 cups milk

Kosher salt and freshly ground black pepper
Directions
Preheat the oven to 350 degrees. Spread the bread cubes onto a baking sheet. Drizzle the bread cubes with about 1 tablespoon of olive oil and season lightly with salt. Bake until lightly browned. Set aside to cool. Transfer the bread to a large bowl. Stir in the spinach and 1/4 cup of the feta.

In a large bowl, whisk together 2 tablespoons of olive oil, the mustard, lemon zest, and lemon juice. Add the eggs and beat until blended. Add the milk and season with 1 teaspoon of salt and 1/2 teaspoon pepper. Pour the egg mixture over the bread and spinach mixture. Use your hands and toss well to combine.

Transfer the bread mixture to a baking dish or two and let stand at room temperature for 2 hours. Alternately, you can refrigerate the mixture over night.

Sprinkle the remaining feta on the bread pudding and bake in the center of the oven until risen and set, 30-40 minutes. Scatter the oregano on top. Cut into squares and serve.
(Adapted from http://dishingupdelights.blogspot.com/)