Squid Puttanesca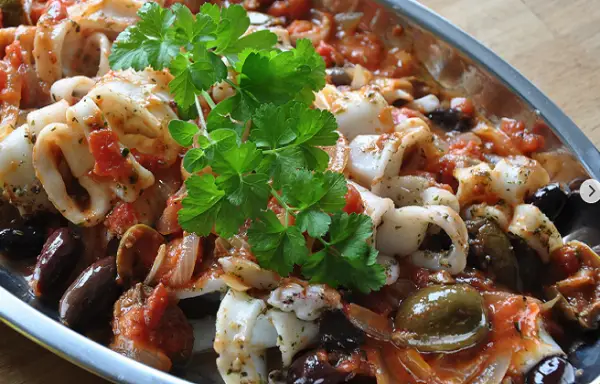 Ingredients
    2 tablespoons olive oil, divided

    1 tablespoon herb seasoning (blend of dried thyme oregano basil marjoram fennel seed savory and rosemary)

    1 small yellow onion, cut into thick rings

    2 cloves garlic, chopped

    1 cup pitted mixed olives, coarsely chopped

    1 cup chopped canned tomatoes

    2 tablespoons unsalted butter

    Olive oil

    Sprig fresh parsley for garnish
Instructions
1.Set the tubes vertically on a cutting board in front of you and use a small knife to slice two-thirds of the way through the tube, making cuts about a half-inch apart. It will look a little like a comb, with the sliced pieces as the teeth of the comb. Set aside.
2.Heat 1 tablespoon olive oil to a medium pan over medium heat and when it's rippling a bit as it heats up, add the onion and cook, stirring, for about 3 minutes. Add the garlic and cook for another 1 to 2 minutes. Add the tomatoes to the pan and stir to combine. Stir in butter and let simmer for 2 to 3 minutes. Remove from heat and set aside.
3.In another medium pan, heat remaining oil on high heat. When it's just barely smoking, add the squid and sear for one minute on one side. Flip the squid and cook for another minute.
Place squid on a platter, reheat the puttanesca sauce quickly, pour it over the squid and toss gently to combine. Drizzle with olive oil and garnish with fresh parsley. Serve immediately.