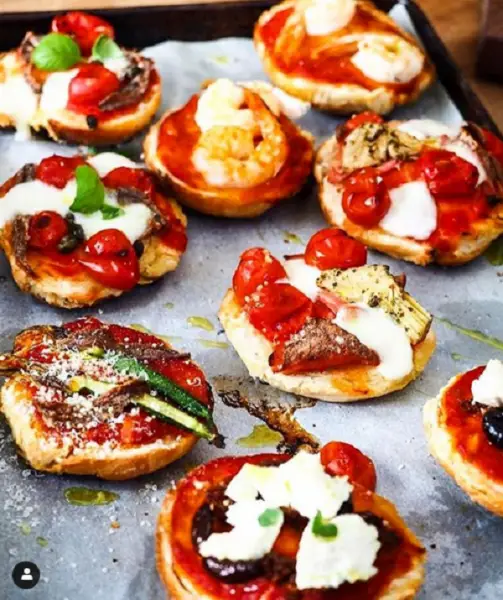 Have you got stale bread and some pantry staples? Then you can make these
Stale bread Pizzette! ❤️😍
From my show @cooklikeanitalianau

Ingredients
5 round stale bread rolls, cut in half
200 g canned baby Roma tomatoes
1 tbsp capers
4 anchovy fillets
2 slices mortadella or smoked ham
2-3 artichoke hearts, quartered
4 green prawns, peeled and deveined, tails left in tact
2-3 baby zucchini with their blossoms, cut in half lengthways
2-3 tsp spicy 'nduja
2 tbsp pitted Ligurian olives
6-7 bocconcini
2-3 tbsp fresh ricotta
grating of ricotta salata or pecorino
basil leaves
Marinara sauce
2 tbsp extra-virgin olive oil, plus extra for drizzling
2 garlic cloves, thinly sliced
2-3 sprigs oregano
500 ml (2 cups) passata
sea salt
Instructions
1. Preheat the oven to 200°C.
2. For the marinara sauce, heat the olive in a large frying pan over medium heat. Add the garlic and oregano and cook for a few minutes or until just fragrant but not coloured. Add the passata, 200 ml water and a good pinch of salt. Bring to the boil, then reduce the heat to low and simmer for 10-15 minutes. Set aside.
3. Meanwhile, dampen the cut side of the bread rolls with water, then flatten them with the palm of your hand and place on a large baking tray lined with baking paper. Top 4 halves with a few tinned baby Roma tomatoes and a little of their juices, then top 2 of those halves with capers, anchovies and a drizzle of oil, and the other 2 halves with mortadella, artichoke hearts and a little salt.
4. Spread the remaining bread halves with the marinara sauce. Top 2 halves with prawns, salt and olive oil, another 2 halves with baby zucchini and anchovies and the remaining 2 halves with 'nduja, olives and a little salt and olive oil. Bake for 15 minutes, then add a few bocconcini to the artichoke and mortadella pizzette, another few to the anchovy and caper pizzette and a little ricotta onto the 'nduja and olives ones. Bake for 5-6 minutes or until the cheese has melted and the top is slightly golden. Take out of the oven drizzle each slice with a little olive oil and top with basil leaves or oregano and grate a little ricotta salata over the baby zucchini and anchovy pizzette.
Join Joanne and Frank on Facebook at
and