Stewed Cuttlefish and Squid Recipe
Stewed Cuttlefish and Squid Recipe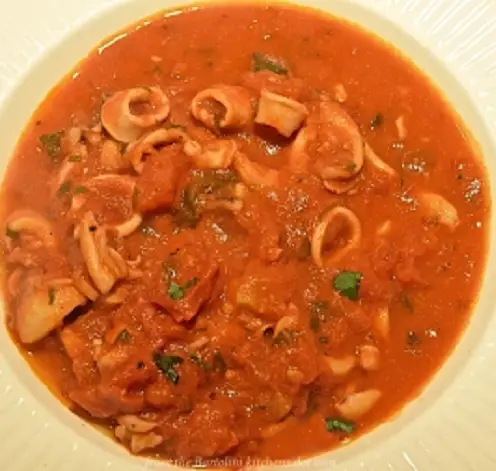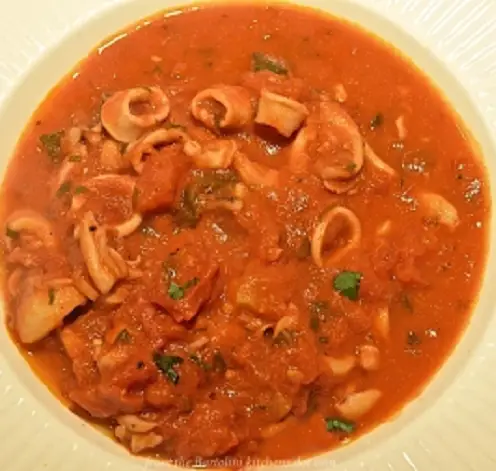 Stewed Cuttlefish and Squid Recipe
Ingredients
2 to 3 tbs olive oil

2 or 3 anchovies

4 cloves garlic, chopped or grated

red pepper flakes to taste

1 lb raw cuttlefish, skinned, cleaned and cut into strips. If using tentacles, cut in half.

1 lb raw squid, skinned, cleaned, and cut into rings. If fusing tentacles, cut in half.

1 cup dry white wine

1 large can (28 oz, 800 g) whole tomatoes

1 small can (14 oz, 400 g ) diced tomatoes

2 tbs fresh parsley, chopped

2 tbs fresh basil, chopped

salt and pepper, to taste

1 whole clove garlic, minced or grated

sliced, thick crusted bread for serving
Directions
Heat oil over med-high heat in a medium, heavy bottomed sauce pan.

Add the anchovies, garlic, and red pepper flakes before reducing heat to med-low. Cook for about 2 minutes. Do not allow garlic to burn.

Add cuttlefish and squid and continue to cook until flesh whitens – about 5 minutes.

Add wine and increase heat to med-high. Continue to cook until wine is reduced by half – about 7 to 10 minutes.

Add both cans of tomatoes, tearing the tomatoes by hand as you add them to the pot.

Combine the parsley and basil and use 3/4 to season the pot. Reserve the rest. Stir to fully combine.

Reduce the heat to medium and allow the pot to simmer for at least 20 minutes. It is ready to be served when the stew has thickened and grown deeper in color.

Bring to the table garnished with the remaining chopped basil and parsley.
To Serve
While the stew simmers, toast some crusty bread, one slice per serving. While still warm. rub the remaining garlic clove across the bread. Place one slice of the now garlicky bread into the bottom of each serving bowl. When it has finished simmering, ladle the stew over the bread in each bowl.